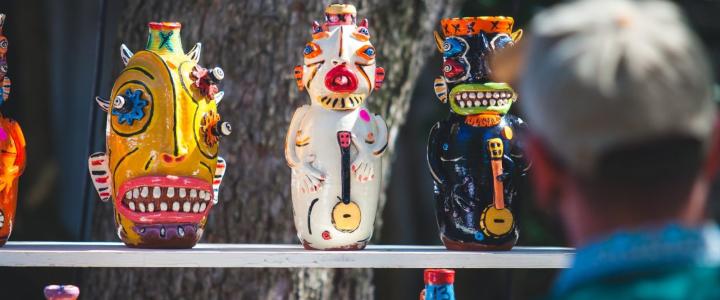 An exclusive preview of the one-of-a-kind pottery coming to New Braunfels this weekend
October 20, 2022
The Texas Clay Festival (October 22–23) in New Braunfels came from humble beginnings—after traveling to art festivals around the globe, six artistic couples joined together to celebrate their passion for ceramics. In 1982, they invited ten guests to show their work at the first festival. This fall, the event is celebrating its thirtieth anniversary with eighty-two ceramicists selected from more than 150 Texas potters, including the distinguished Thai-born artist V. Chin, Dallas potter Randy Brodnax, and printmaker and ceramicist Mary Fischer. The hometown of the festival reflects the creativity of its rich community of visual artists, musicians, and performers: New Braunfels supports a number of creative hubs including the Circle Arts Theatre, Brauntex Performing Arts Theatre, and Texas's oldest dance hall, Gruene Hall.
For the Texas Clay Festival's executive director Tasha Corradini, the weekend is a testament to the powerful friendship of Texas's artistic community. "It's a family atmosphere for these acclaimed artists," Corradini says. "They have known and supported each other for decades, and coming together in Gruene each year is an annual highlight."
Below, six ceramicists share how they got into pottery, their visual inspirations, and some of their artwork that will be at this weekend's event.
 
Before she started creating boldly colored sculptures, Michelle Cuevas wanted to paint portraits. But after studying under the famed potter Roger Allen, the "clay bug finally bit" her. Mexican culture—from her own background and her husband's—sparks her creativity, and she draws bright palettes and spiritual imagery from Mexican folk art, cultural stories, and textile patterns. Cuevas's graphically patterned "shrines" celebrate life and storytelling. Her sculptures, pictured below, incorporate outstretched monarch wings, roses, and painted skulls while honoring the Mexican holiday Dia de Los Muertos. "The celebration is always during the great monarch butterfly migration from Canada to Mexico," she says. "It is said the spirits of our deceased loved ones come back as butterflies."
Mary Fischer's passion for pottery stemmed from a class she and a friend took for their fortieth birthdays. "It was a fluke," she says. She didn't have much interest in throwing functional vessels, but she gravitated toward sculpting clay by hand, constructing boxes and then architectural structures, including houses and arches. Fischer began to incorporate printmaking into her process after using a Xerox machine to copy photos and transfer the ink onto clay surfaces. Now, she uses etching plates and laser lithographic techniques to transfer ink onto wet clay, scavenging through photos she's taken or her friend's collection of vintage postcards. "One of the challenges is to make a cohesive piece, one where the image and the building work together."
After JoLea Arcidiacono worked with her mom for a clay art project in second grade, a winning blue ribbon at her county fair in Colorado inspired her to continue pottery. "My seventh grade career day was with a local potter," she says. "Many years later she gave me her potter's wheel." Today, she works with porcelain, carefully layering underglaze over her sculptures of expressive, wrinkled human faces or animals wrapped around veiny human hearts. "I see beauty in things that many think of as dangerous, frightening, or dark," she says. This year, her work at the Texas Clay Festival encompasses pots with faces adorned with surprising objects, like a cloud of mushrooms or a slice of pie, springing from human figures.
The husband-and-wife duo Dee and Terry Buck are two of the original founders of the Texas Clay Festival. They partnered to create artwork honoring the native flora and fauna of the Texas Hill country. "We love all things outdoors—we are hikers, canoeists, fly fishermen, campers, gardeners," Terry says. The couple turns out organic forms that celebrate nature out of their barn studio. Their earth-toned surfaces call back to a traditional pottery technique known as soda firing, a process in which dry soda ash is applied to vessels. When it vaporizes, it leaves behind a polished surface.
Intricate, colorful patterns of insects like bees, moths, and cicadas grace Mike and Teri Hubbeling's work. While Teri had formal training as an artist and Mike was self-taught, the two collaborate in their creative process, sharing pieces to glaze together. In the pictured plate of giant leopard moths, Mike designed the giant winged insects before handing it off to Teri to paint the ornate black and gold "henna" rim.
The Hubbelings have been making pottery for more than forty years, but Mike says the couple got their "big break" in 1990 when they created Western-themed ceramics for a Houston international economic summit. "We have a picture of President Bush and Prime Minister Thatcher holding our plates from that event," he says. "It's our fifteen minutes of fame."