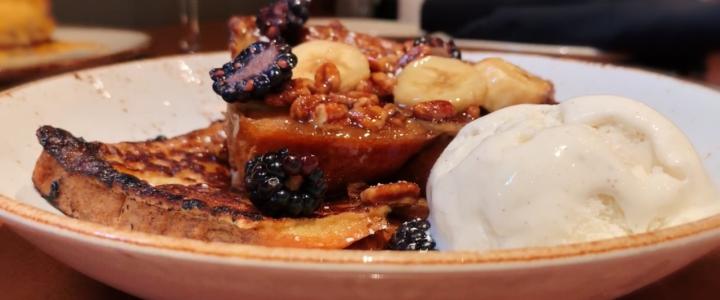 McAdoos, you do brunch so well!
Located on the corner of Mill and Coll Street, McAdoos is a cajun-style seafood restaurant, set up in the restored old brick post office. With high ceilings, huge windows, a bar that screams "Order an Old Fashioned!!!" and a super garden area, this is a go to spot for many New Braunfels natives.
We walked in after going to the farmer's market and wanted to see what their brunch was about. And BOY, oh boy, they have got the brunch we love to munch!
We've had their lunches, we've had their dinners, we've had the drinks, and oysters but this was our first time having brunch with McAdoos and it will most certainly not be the last.
Right when we walked in, we were greeted with THIS setup.
Can you hear the angels singing?
No pressure, but their Build-Your-Own-Blood Mary practically forces you to get more than one. We chose the larger of the two size options (MORE BACON!), and it looked something like the below.
There were like 8 options of different flavored tomato juice, a whole tree of different pickled vegetable toppers and straight veggies, bacon, cheeses, and a collection of all the good hot sauces. I might even be forgetting somethings, but it had ALL the fixings for making THE most **EXTRA**, excessive, delicious Bloody.
For the non-tomato lover in our household, a delicate mimosa with a Raspberry liquor topper was perfect. The raspberry liquor, called Chambord, gave the drink the slightest hint of marzipan and was surprisingly strong. So our call, if you want to eat your drink and love bacon, Bloody Mary all the way. To make your brunch feel like an early summer soiree at a French chateau, Mimosa it up.
Pro Tip: fill the Bloody Mary with your garnishes before adding the tomato juice.
With our drinks taken care of, we were ready for the food. I am a sucker for eggs benedict. I have traveled for over an hour to get an English muffin topped with Canadian bacon, a poached egg, smothered in hollandaise sauce and sprinkled with fresh chives.
So, when we saw McAdoos take on eggs benedict on the menu, we had to get it. The egg was poached perfectly and when cracked, poured the sweet yolk out at just the consistency you want. Rested, just right, on a crispy crab cake, and a mini pancake, the sauce was more of a cheese sauce. I would get it again, but don't think of eggs benedict when you are ordering!
The second dish we ordered was more consistent with McAdoos style. Two Cajun style quails served on a bed of jambalaya with a sauce, mmm that sauce, in a cast iron oval roasting dish. While it was delicious, it felt a bit heavy for an early brunch and I would recommend it for the later brunch goers. The semi-sweet, caramelized crust on the quail paired wonderfully with the jambalaya. And if you've ever had their gumbo before, you will know what the sauce tasted like.
The last dish was the desert of our brunch and our faaavorite! French toast topped with banana fosters, and a scoop of vanilla bean ice cream. It had a veery prominent, pleasant rum flavor and and was sweet, but not overpoweringly so. All in all, we will be coming back again, especially for that French toast.