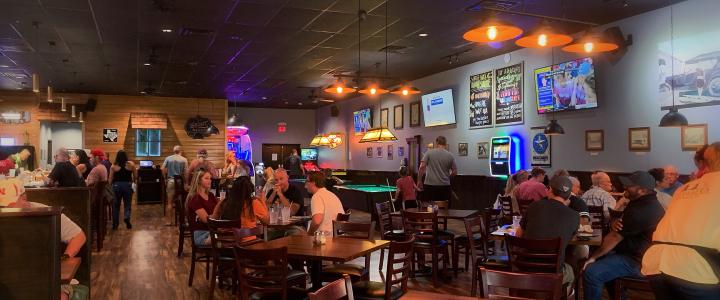 Bootleggers Pizza Parlor. They're fun. They describe themselves on their Facebook page magically that conjures up all sorts of fun times, so I'm just going to quote them. Bootleggers Pizza Parlor is " a prohibition-era juke joint with delicious pizza by the slice, 22 drafts, unique cocktails, billards, games, and more..." Um... Yes please!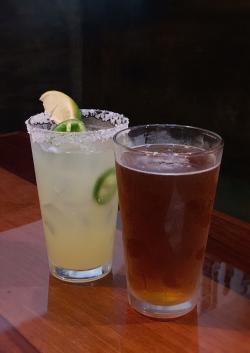 It's a pub-ish atmosphere that is appropriate to take kids to around dinner and then, I imagine, turns more bar-ish at night. There's a bar with seats, T.V.s playing "the game" (WOO SPORTS!), and a mini Dave and Busters setup at the back, complete with pool tables, arcade games, Pacman, and the basketball game that my kids always beat me at. It's fun, not too loud, and the menu had some surprising treats.
The owners source their ideas from all over. The absolute *winner* of the night was the Arancini. The chef (according to our host for the night) took a trip to San Diego and was introduced to the dish in an Italian Restaurant there, and he personally makes a mean risotto, so he whipped up his own version for appetizers! A very good decision. They're creamy, parmesan, risotto nuggets, fried 'til golden brown and served with a red sauce. Absolutely delicious.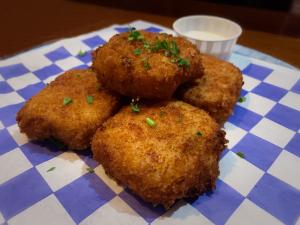 That and these oooey gooey, stretchy, fried mozzarella sticks were our starters. One of the team ordered an 8th Wonder Hopston IPA and the other a Jalepeno Honey Margarita. The male half of the team said the Margarita burned his face but the other half isn't a wimp and may be the person writing this review right now, and she thought it a bit sweet, salty, tangy, as most margaritas, and the heat was the thing that made it stand apart from a normal margarita and was quite pleasant. So ha!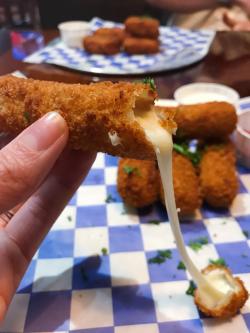 Bootleggers makes their own moonshine. For real. So of course we had to try it. They come in little teeny mini glasses that are all frosted opaque. We tried the sweet tea and peach cobbler flavors. They were sweet, similar to a syrup based alcohol, without any abrasive alcohol taste and made a nice digestif (although I'm not sure how much they helped with digesting).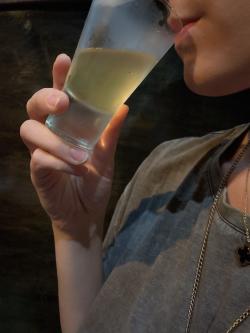 We ordered a slice of the supreme pizza, a 12" pepperoni, and a 12" Chicken Parmesan. We were not huge fans of the supreme slice, but the pepperoni and chicken parmesan weren't bad and the kids really liked them.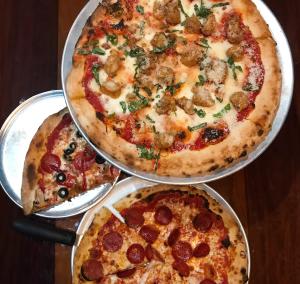 Overall, I'd say that Bootleggers is a fun, casual place to grab a bite, and it's definitely worth stopping by to try it out! I respect their bringing out new menu options and changing up the offered pies so often. For example, for Wurstfest, they just came out with a Reuben Calzone Special that has "house cooked corn beef, Bavarian sauerkraut, housemaid 1000 Island dressing, and swiss cheese." So fun! Let us know if you stop by and what we should try next on our instagram @goodeatsnbtx!

Bootlegger's Pizza 197 S Seguin Ave  New Braunfels, TX 78130 bootleggerspizzaparlor.com (830) 327-1199