The 17 Best Rivers in America for Tubing + Drinking
Really, is there anything better in the summer than sipping canned suds, soaking up the sun, and floating down a river in a giant rubber donut? With a cooler of beer... floating right next to you! Maybe, if you hate fun, but otherwise the answer is clearly no, there is nothing better. Tubing is absolutely one of the greatest American summertime activities ever.
And since this great land of ours has been blessed with so many rivers seemingly created for the express purpose of beer and flotillas, we thought it'd be fun to find the best of the best. From scenic floats for getting your light lager on, to (essentially) party lakes with a stronger current, here are the 17 top tubing rivers in the US.
Ginnie Springs, Florida | STACEY LYNN PAYNE/SHUTTERSTOCK 
Ginnie Springs
High Springs, Florida
A favorite of both North-Central Floridians and UF students (when they're not being completely delusional about the quality of their football team), Ginnie Springs is a popular spot to spend the afternoon drinking beer under a canopy of Spanish moss and discussing how Tim Tebow is still the greatest athlete in history.
San Marcos River Headwaters, Texas | CHAD WADSWORTH 
San Marcos River
San Marcos, Texas
Just down the road from Austin, San Marcos is a college town in the purest sense. The coolest small city in Texas is also one of the fastest growing and hardest partying in America, and the crown jewel is the San Marcos River. Every summer when the temps hover above three digits, hundreds of college kids flock to its cool, 72-degree waters to soak up the sun and koozie-covered bottles of Lone Star. It's also home to Float Fest, an annual music festival offering two days of camping and river floating. The fest goes down July 21-22 this year with headliners Tame Impala, Modest Mouse, and Snoop Dogg.
James River, Virginia | VIRGINIA STATE PARKS/FLICKR
James River
Scottsville, Virginia
On your ride to the drop-off point, a representative from the tubing company will no doubt tell you NOT to jump off the rock in the middle of this river during your two-hour float. Because it is private property, and you WILL be trespassing. But this is essentially like telling an 8-year-old NOT to look in Mommy's nightstand -- seriously, who the flip owns a rock in the middle of a river anyway? The riverside beaches give you a front-row seat to watch every tuber on the James summarily gaff off both the guy giving the warning and whomever owns that rock.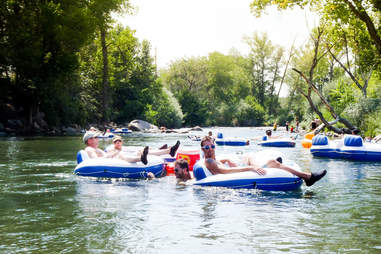 Truckee River, Nevada | DESIREE CHAMBLEE
Truckee River
Reno, Nevada
While this part of the Sierra Nevada is typically known for some of the world's best whitewater, well, you've seen the news: there's not exactly a ton of snow-melt cascading down the mountains right now. But fear not, the Truckee remains a fun time; its calm waters now lend themselves to a relaxing day-long booze cruise where slow-moving boats will just as soon invite you on board for a beer as they will spray you with a squirt gun when you float by.
Meramec River, Missouri | OZARK OUTDOORS 
Meramec River
Meramec State Park, Missouri
If you've ever seen those Girls Gone Wild-type videos from the Lake of the Ozarks, that's just the tip of the Missouri summer-partying iceberg. In a state with few laws about drinking on the water, floats down the Meramec are basically all-day parties with a lot of public nudity. Things got so out of hand at one point that authorities had to actually pass a law banning beer bongs on the water. Not beer mind you, just beer bongs. Party on, Missouri!
Snoqualmie River, Washington | TYSON GILLARD/COURTESY OF OUTDOOR PROJECT
Snoqualmie River
North Bend, Washington
Though the Green River also offers some of the best tubing in Western Washington, what the Snoqualmie lacks in serial killer name recognition it makes up for in tubing excitement. Sure, the water's a little cold, but you'll be floating through some of the most spectacular scenery in the Pacific Northwest. And if lying around drinking beer somehow gets old, the river is lined with rope swings so you can show off for your friends.
Guadalupe River, Texas | FLICKR/DUSTINLARIMER
Guadalupe River
New Braunfels, Texas
This river running through Southeast Texas draws tubers from all over the country. Drinking is perfectly legal while you're floating (as long as you clean up) and the folks who live along the route have been known to join the party, handing beers to tubers or just pranking them with rubber spiders and fake alligators.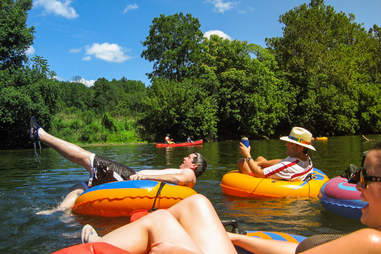 Shenandoah River, West Virginia | KEVIN HARBER/FLICKR 
Shenandoah River
Harpers Ferry, West Virginia
Probably the best value on this list, outfitters at Harpers Ferry will rent you a tube (and one for your beer cooler) for about $30 a day. And if the float isn't exciting enough, there's whitewater rafting, ziplining, and mountain biking to boot.
Yampa River, Colorado | MICHELLE DIMUCCI/EYEEM/GETTY IMAGES 
Yampa River
Steamboat Springs, Colorado
On most tubing trips, you start upriver from where you park your car, and when you finish the float, you're ready to drive home. Not so on the Yampa (a rare calm river by Colorado standards), where you finish the trip in the middle of Steamboat Springs and can spend the rest of afternoon eating, shopping, or, dare we say, enjoying another beverage.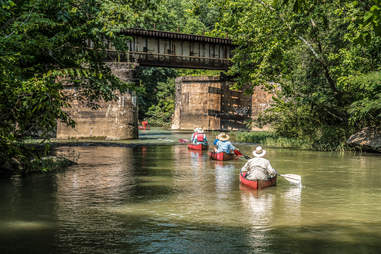 Cahaba River, Alabama | JS.RAINES PHOTO/SHUTTERSTOCK 
Cahaba River
Helena, Alabama
The longest free-flowing river in Alabama is actually home to more species of freshwater fish than can be found in ALL THE BODIES OF WATER in the state of California combined. Not that there are many of those left, but still, impressive for a river this size. From mid-May to mid-June, lilies bloom on the banks and islands of the river, making it one of the more unusually picturesque floats in the country.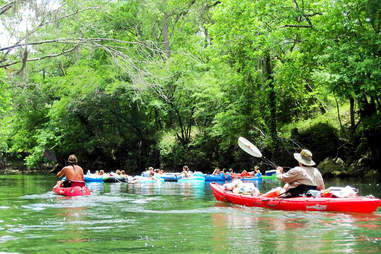 Chipola River, Florida | CHIPOLA RIVER TUBING 
Chipola River
Marianna, Florida
Imagine spending four hours floating down a giant, lazy river. Now imagine if that lazy river was also packed with partying students from Florida State University. Welcome to this tributary of the Apalachicola River, where in addition to not-at-all-staring at that frat guy you recognize from his drunken night at The Standard, you can also not-at-all-stare at natural beauty like limestone caves and oak trees draped in Spanish moss.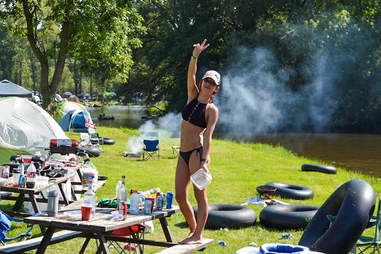 Apple River, Wisconsin | APPLE RIVER HIDEAWAY SOMERSET
Apple River
Somerset, Wisconsin
One of the great Midwestern traditions that doesn't involve football, cornhole, or stuffing your face with brats is a trip down the Apple River. Not only do riders tie their tubes together (with a communal beer cooler in the middle), but the scene is almost like a floating Mardi Gras. Beads are worn... and thrown. And there's even a sandbar midway down the river where the party is always kicking with food, drinks, and beach volleyball.
American River, California | AMERICAN RIVER RAFT RENTALS 
American River
Sacramento, California
Residents of the new Oakland (Sacramento, of course) have the lucky privilege of spending sunny Saturdays on this river, which is too shallow for boats but perfect for tubes and kayaks. Meaning, you get the peaceful waters to yourself and can spend the day forgetting that you have to root for the Kings.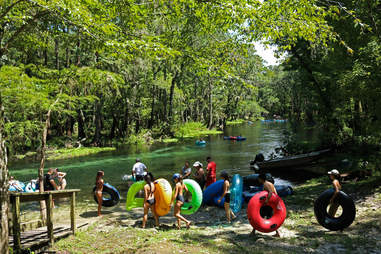 Ichetucknee River, Florida | FLORIDA STATE PARKS 
Ichetucknee River
Fort White, Florida
This crystal-clear river in Ichetucknee Springs State Park is home to eight separate natural water springs, those old-Florida natural treasures that get forgotten amongst the beaches and condos. The 90ish-minute float takes you down a narrow stream of 72-degree water and under a shady canopy of oak trees. Feeling adventurous? Don't hesitate to climb one of those trees and jump right in; the current is light so it's an easy swim back to the banks.
Comal River, Texas | IN NEW BRAUNFELS 
Comal River
New Braunfels, Texas
You might call New Braunfels, Texas the tubing capital of America, since every Texan not floating the aforementioned Guadalupe River is probably drinking in the sun on the nearby Comal. Yup, two tubing rivers in one town.
rainbow river, florida | PETER TITMUSS/SHUTTERSTOCK 
Rainbow River
Dunnellon, Florida
Though Florida has about as many great places to tube as it does guys who've been indicted for Medicare fraud, this one is far and away the most scenic. The clear waters allow floaters to see all the way to the bottom of the sub-tropical rainbow spring, making it a prime spot to also go snorkeling. The float takes about two to four hours, and the state park even runs a tram to drive folks upriver to the launch site.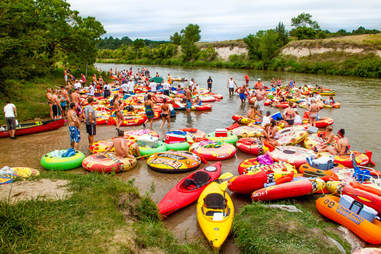 Niobrara River, Nebraska | NEBRASKALAND MAGAZINE/NEBRASKA GAME AND PARKS COMMISSION
Niobrara River
Valentine, Nebraska
Man, this river is the business. Come summertime, everyone who knows anything about what's good in Nebraska finds their way to this spot at least once for tubing and kayaking. You technically can't have alcohol for the brief part of the river that goes through the Fort Niobrara National Wildlife Refuge, but, like, just be discrete for a few minutes 'til you pop out the other side. When you come up on Smith Falls State Park, beach yourself and drink on land for a bit before you resume drinking on river. -- Kastalia Medrano
- Matt Meltzer for thrillist.com | June 29, 2020