I've been enviously following (and occasionally ordering from) mega cookie accounts in our neighboring cities. Ever heard of Cereal Killer Sweets? They're a cute little dessert shop in San Antonio that whips out what looks like THE BEST, insane, cereal/rice Krispy treats. They also post regular drool-worthy food shots on IG of them breaking open stacks of their giant gourmet cookies, leaving trails of melted chocolate and caramel stretching between the different halves. It's sinful. And now we've got our own gourmet cookie creator here in New Braunfels, Azucar.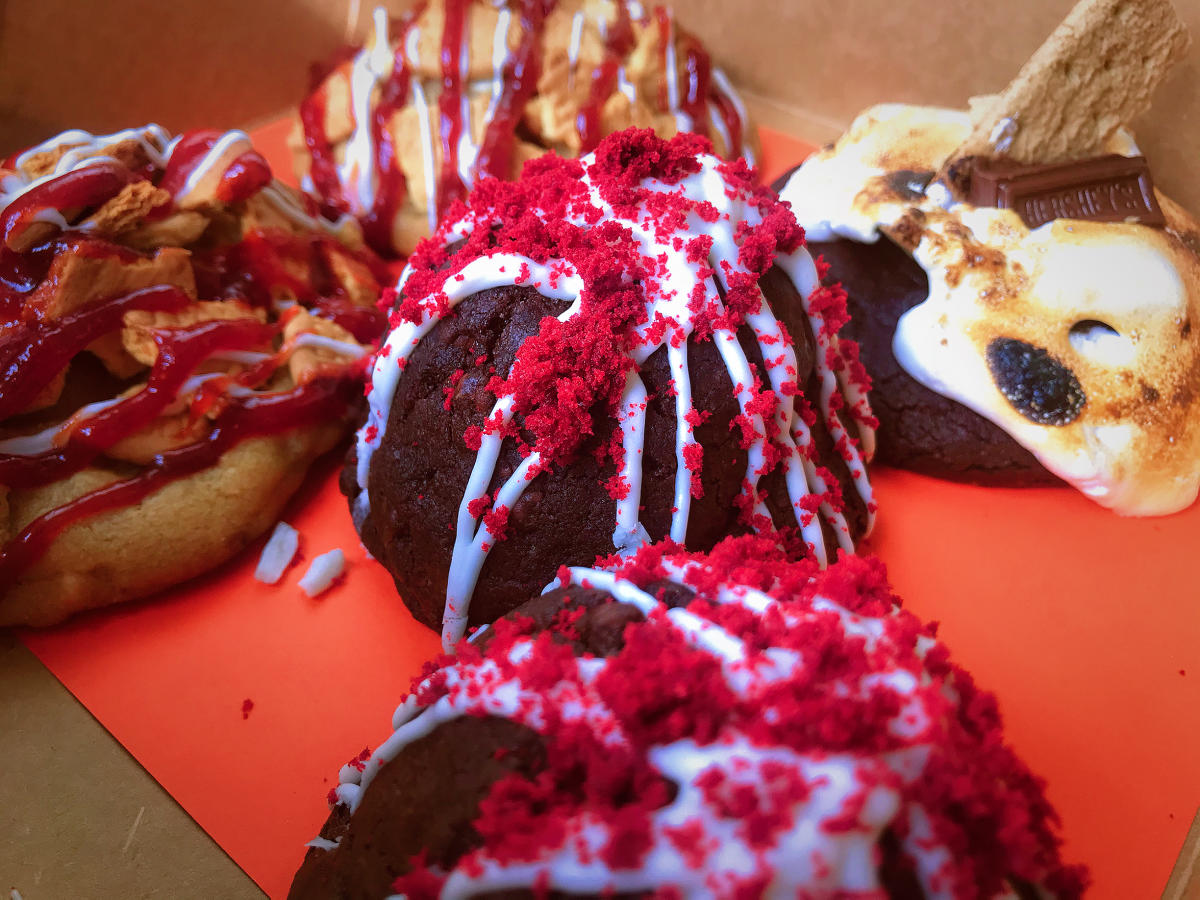 I recently caved and ordered a way too large order from Cereal Killer Sweets. Justification? Shark Week is a big enough occasion to need 70 plus dollars of treats to celebrate with. Right? No? In my defense, one was topped with gummy sharks and had red velvet filling so when cracked open it looked like it was bleeding. Very on theme and fitting for shark week, but it was the snowball for the cookie shopping spree and really, people should not be trusting me with a credit card and online shopping... what has since occurred can only be described as a COOKIE AVALANCHE.
I checked tracking anxiously for a week and a half, and they finally arrived, in time for our oceanic documentary binge watching. However, I forgot to account for the fact that we live in Texas, the devils hell-hole of heat in America. I was checking the tracking app so frequently that I actually snapped up the package only a half hour after it was dropped at the end of my drive. Either that half hour, or some unheated warehouse it was thrown in en route completely demolished the goodies. The sharks were the sole survivors of the melting massacre. I'm guessing the brownie was soft to begin with but became a pile of chocolate mush. The matcha cherry cookie's center was drippy and it broke apart when I caaaarefully picked it out of the box, no refrigeration or careful resculpting could save it. All hidden special gooey centers were thin liquid that escaped and filled the plastic wrapping. It was a mess.
We loved the Rice Krispie treat but the flavor of the cookies and brownies just didn't do it for us.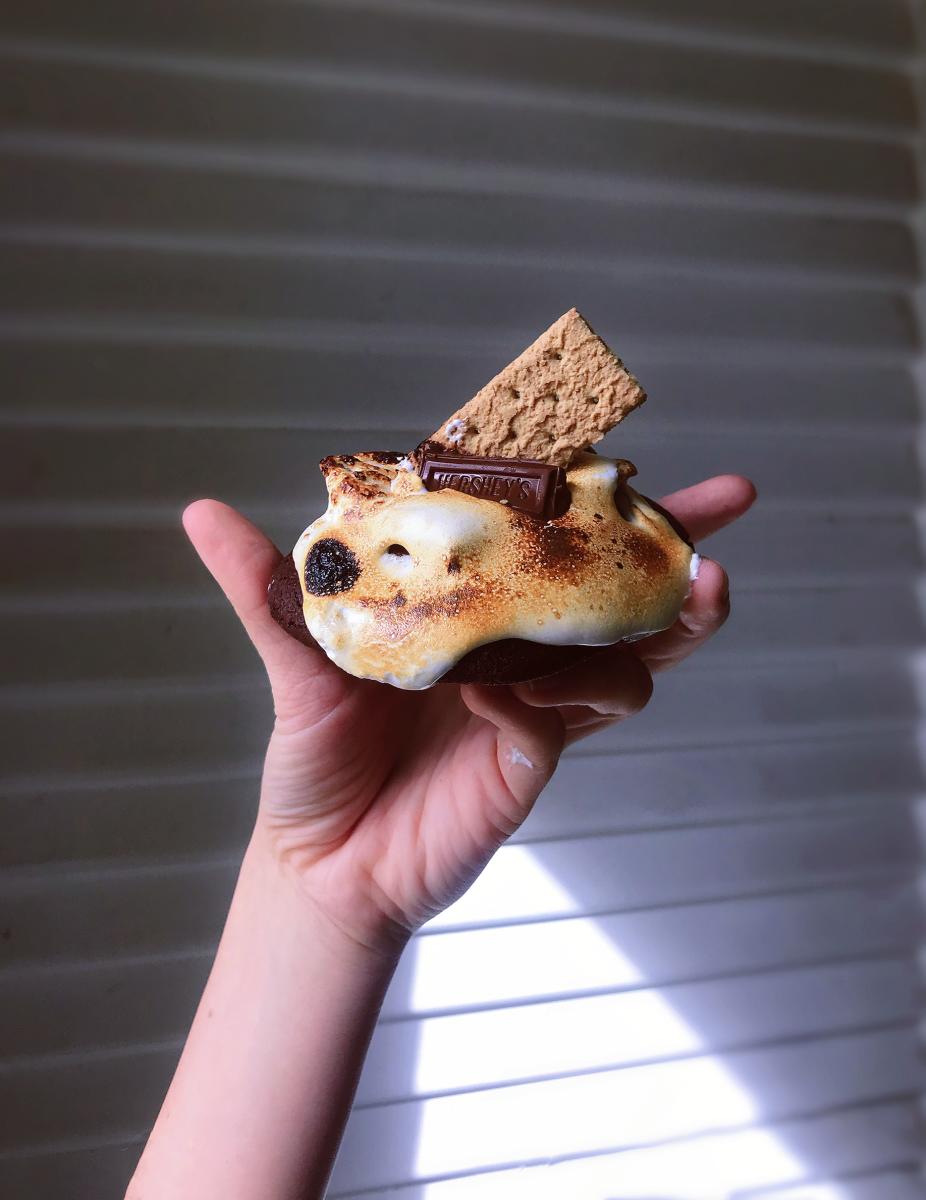 This was when I found Azucar, by chance, while surfing Instagram. Let me just say that the Lord knows where there's a need and bless him for filling it!
The brains behind Azucar moved here, to New Braunfels, just at the start of the pandemic. SHE OPENED A BUSINESS DURING THE PANDEMIC. She's a boss. She's kept on through our current hot mess, and has been absolutely killing it. Please observe my photos and videos, but go see hers as well because they're better and you need to be suitably impressed.
Azucar's creator worked in Miami for about five years making cookies. There she got the idea for her version of the Grand BEHEMOTH gourmet cookie trend and when she moved to New Braunfels with her family, she set up shop in her home and began whipping out some amazing creations.
The cookies are epic. BIG and sweet with nice combinations of flavors. My favorite was the Guavacita- white chocolate morsels in the signature dough, stuffed with guava chunks, topped with cookie crumbs, and drizzled with guava and white chocolate. It was fruity, sweet, and a bit creamy, with an unexpected tang. All the little decorative additions on the top added some nice textural variety to the bite that I really liked.
Azucar plans on opening up a storefront in the future, but is currently doing business and taking orders via her Instagram, @azucar.shop . Message her by Thursday each week and she will deliver for free in New Braunfels (orders over $15) from Saturday through Monday during your reserved time spot from 11am-8pm.