NEW BRAUNFELS, Texas — Oh the weather outside isn't frightful, and folks in New Braunfels are in the Christmas spirit during the annual Wassailfest, held on the first Thursday of December each year.
"Wassail" is a spiced apple cider 
Festival has been held for 27 years
In case you're new to town, "Wassail" is a spiced apple cider New Braunfelsers have been sipping at the downtown festival for 27 years. One of the businesses you can always expect to see participating in the festival is the oldest bakery in Texas. Naegelin's Bakery is pretty much a staple of New Braunfels. 
"So whenever anything like this comes about, the two go hand in hand. So as part of the community, we feel like we need to be here and we want to be here," said bakery manager Frankie Alvarado.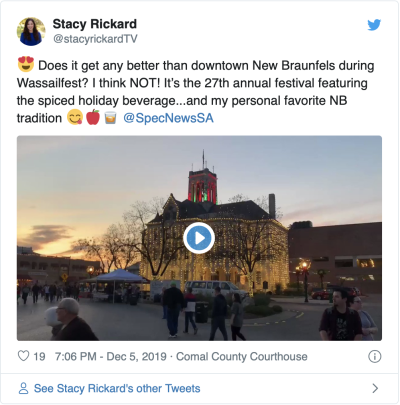 Before the bakery could open its doors for the big event, there were a lot of preparations going on behind the scenes.
"For us, we basically prepare with extra product because we know that half the town's going to be here getting wassail," Alvarado said. 
Alvarado isn't joking. The festival shuts down the streets around the Downtown Plaza, giving half the town the opportunity to waltz around, sipping on samples of Wassail from participating businesses. 
"It captures old-time Christmas. I mean, this being a small town, we're a close-knit community, and we close off downtown, and everybody is just in a really great mood, really happy to be out, very friendly, traveling, going from business to business trying their wassail, and it's awesome," Alvarado said. 
At its core, Wassailfest gives downtown businesses the chance to open their doors and potentially attract new customers. 
"You get to know the business owners, whereas on a normal basis you might not get to. You know, you get to know the product a little bit, it's a lot more relaxed," Alvarado said. 
But what makes Naegelin's wassail different? 
"It's a spiced cider, apple cider. Of course there's cinnamon in there. We have a little bit of citrus, and then you also have the pineapple juice. Those are the staples of it, and then we embellish ours a little bit more with some secret ingredients," Alvarado said. "You just heat it up until all of the flavors blend together, and then you serve it warm, definitely. So on a cool night, it's perfect."
And Alvarado has the best job of all during Wassailfest.
"I'm the one that serves the wassail, so that smile on their face that's priceless. This is my fifth time." Alvarado said. "They're like, 'Oh my gosh this is so good!' Yeah, no, honestly they really are. They taste it, you know it takes a little bit for the flavors to soak in, but they're really impressed with the flavor."
The only downside, it's only one night.
"There's a lot of charm to Wassailfest that I think everybody should experience," Alvarado said. "If we could have Wassailfest like 10 days in a row like we have Wurstfest, that would be awesome." 
​With 150 years of operation under its belt, the bakery is no stranger to this community or to the annual festival.
"I like to say that everything here is made with sugar and love. So how can you go wrong with that? But really, I think what really keeps us open is we have the really traditional German recipes that have been around since the bakery opened, but then we also bring it into the new," Alvarado said. "We have some really modern cupcakes, wedding cakes, we have something for everybody. So I think that's why we're so popular."