GRUENE, Texas - On Oct. 28, 1989, the country band Shenandoah was the talk of the town when they stepped on stage at the Bluebonnet Palace in Selma. 
The band was riding high with their monster album "The Road Not Taken" with the hit singles "She Doesn't Cry Anymore" and "Mama Knows" that brought them their first Top 10 hits on the Billboard country charts. 
But it was on the same night in Gruene, Texas that one artist would take another step to not only changing country music, but becoming one of the biggest artists in music history. 
An unknown Garth Brooks performed for the first time in front of the Hill Country Texas crowd at the legendary Gruene Hall. 
Garth was just starting to pick up some momentum. "Much Too Young (To Feel This Damn Old)" peaked at No. 8 and follow-up, "If Tomorrow Never Comes," streaked to the top of the charts on the Country Billboard Charts in 1989. His debut album would sell 250,000 copies in its first seven months on its way to selling over 10 million copies.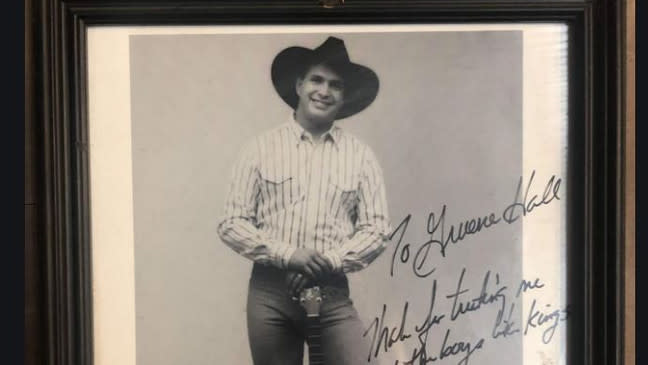 Garth Brooks performed for the first time at Gruene Hall on Oct. 28, 1989. (Courtesy: Gruene Hall)
Of course, Garth Brooks would become the only artist in music history to have released nine albums that achieved diamond status (10 million copies or more) in the United States, while winning the RIAA Award for best-selling solo albums artist of the century in the U.S.
And 1989 would not be the only time Garth would grace the stage at Gruene Hall. In 2019, Garth Brooks brought his Dive Bar Tour to Gruene where not only a few hundred lucky fans got to see the concert inside Gruene Hall, but there were thousands of people who partied and enjoyed the show all along the streets of Gruene.