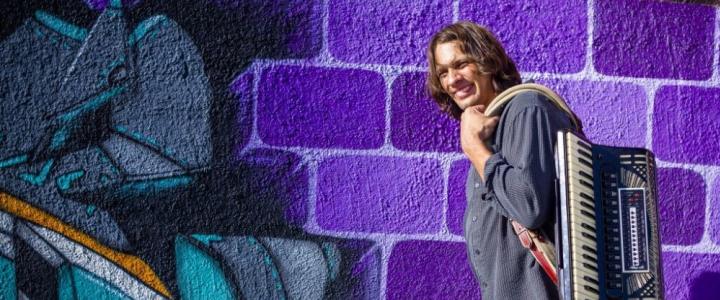 Krause's Café & Biergarten is excited to announce that nationally acclaimed musician, performer, bandleader, educator, and a leading advocate of polka music, Alex Meixner, is partnering with the restaurant and venue to expand its entertainment programming and community events. (Krause's Café & Biergarten, 2022)
"We are excited about the opportunity to work with Alex on an ongoing basis and leverage his talents and presence in the community into improved entertainment options and educational opportunities. Alex's experience as a touring entertainer, educator and talent agent can do a lot to enhance the entertainment at Krause's for both guests and the musicians." – Krause's Café & Biergarten's owner Chris Snider
Alex Meixner is a Grammy-nominated musician with performances on more than 50 albums, including 17 where he was the bandleader or soloist. His band performs approximately 180 shows per year across the nation. Alex also devotes his time to guest speaking in lectures and hosting master classes. 
Alex Meixner, under the umbrella of his talent agency, AM Management, will be working to build the repertoire of entertainment at Krause's, as well as creating engaging and fun community programming. His band will also be performing at Krause's throughout the year, including sets at Maifest and Oktoberfest later this year. Alex will also have a role in coordinating a New Braunfels Citizenship Program with Krause's, a monthly event where participants can learn about the town's history, traditions, institutions, events, and culture. 
"I am super excited to collaborate with the team at Krause's – they've established a national reputation for representing the history of New Braunfels' German culture through food, music and gemütlichkeit." My ideals as a musical entertainer are encapsulated in this synergy and will allow us to bring more creative offerings to downtown's scene throughout the year." – Alex Meixner
On Thursday, January 27 from 6p.m. – 9p.m., there will be an event at Krause's Café to officially welcome Alex to New Braunfels with music by Terry Cavanagh & The Alpine Express featuring  performances by Alex. The event is open to the public and tickets are $5 in advance or at the door. A limited amount of VIP tables seating eight are available for $120 a table.
Krause's Café & Biergarten is a New Braunfels historic restaurant opened in 1938 and successfully run until 1995. Today, Krause's Café honors the previous traditions of the restaurant with the addition of a 'Biergarten,' live music, and more. The menu reflects New Braunfels' German heritage as well as South Texas flavors. Over 100 beers are available on tap with local, regional, and international options. The restaurant also features cocktails and wines on tap.
Dynamic accordionist Alex Meixner mixes an array of musical styles into traditional, exuberant Central European party music, letting die-hard polka fans to enjoy the evolution and letting hipsters discover all there is to love in the innately fun genre. Solo and with his band, he has performed at major venues and festivals around the world, as well as at uncountable accordion-centric events. His virtuosic yet quirky style has made him a sought-after collaborator. He worked alongside Jack Black in the Sundance-screened, Netflix film, The Polka King and with Postmodern Jukebox on one of their viral musical mashups.
https://saexaminer.org/2022/01/18/acclaimed-polka-musician-alex-meixner-partners-with-krauses-cafe/