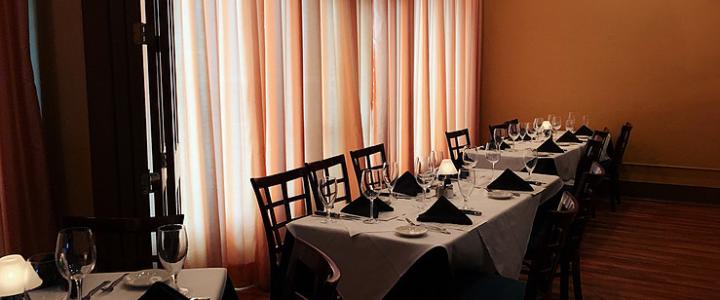 Myron's is one of those places that is a New Braunfels' staple. If you live in New Braunfels or you're visiting New Braunfels for longer than a couple days, then you are expected to have gone to Gruene River Grill (or the Gristmill), McAdoos, and Myron's. It has a domineering presence in the dining scene of New Braunfels. So well known, that I admit to have overlooked it as passed since we've now been living in New Braunfels for 5 *gasp!* full years!!
They have good steak. Like go and every single time they will knock your socks off with their steak. The previous time we went we were a bit disenchanted by the side dishes. The (3, I think..) ones we got were overcooked and the only flavor seemed to be butter, as they were all drowned in it. Which, honestly isn't the worse thing you could do, but we were a bit underwhelmed.
I'm not sure what happened between then and this past time we went. Maybe we just ordered different sides or Myron's did indeed step up their game, but the game was UP you guys!! We thoroughly enjoyed every single dish we ordered and were highly impressed with the wine selection, the recommended bottle, and the service!
We started with an order of Lobster Bisque and Escargot. The Lobster Bisque was very creamy, almost frothy feeling in the mouth, and slightly sweet. Myron's shells the lobster and crabs they serve before bringing it to your table, and then spend a full day cooking up their own in-house roux, using those shells, that is used as the base for their lobster bisque. It is dang good!
We ordered the Escargot which was buttery, creamy, and full of salty parmesan goodness. So many places cook it till it feels like you're chewing on a rubber band, but this was EXCELLENT. Each piece was floating in its own littler lake of butter and covered with a light sprinkling of parsley flakes.
For our main courses we ordered the GIANT Alaskan Crab Legs with butter and lemon and a delicious Bone-in Filet Steak.
Now, as we mentioned, the crab legs are usually shelled in-kitchen and just the meat arrives at your table, magically ready for consumption. The seafood-loving half of this partnership, however, finds a strange joy in working for his dinner, cracking through those decapods' shells to get to the meat inside, so we ordered our crab with its armor attached. It was massive. So much juicy, delicious meat, and an adorable little Bunsen burner butter carafe was set up at our table so we would have continually warmed fresh butter available in the most adorable way.
The bone-in filet was also rocking. It was a thick cut and the outside had been charred to get that caramelized crust full of extra flavorful "burnt" bits. The inside though was (bless them) still medium rare. If you were to press down on this steak, it would leak juices. It was that moist. Just an all around well executed steak from a high-quality cut of beef.
The wine was fruity and smooth, with an acidity and high level of dryness (without the tannin aftertaste) that paired perfectly with all the butter-rich, fatty dishes we ordered. It was what tied our menu together and cut through all the rich flavors, giving our meal the balance it needed. Highly recommend the 2016 Two Squared Alpha Omega Cabernet and Merlot blend.
Also the stuffed tomatoes...Good Lord. Just get them. They'll blow your mind. These tomatoes were stuffed to bursting with a masterful combo of herbs, and warm Brie (I think?), and buttery breadcrumbs. Somehow, in the process of cooking, the tomato had not lost it's resisting bite and the breadcrumbs offered a refreshing crunch to each bite.
We were stuffed after all the aforementioned deliciousness, but we're no quitters, so we loosened out belts, girded our loins, and ordered ourselves some bread pudding with Maker's Mark sauce and some of their in-house made Myron's Ice cream. The bread pudding was full of golden raisins, cinnamon, topped with a bourbon white chocolate sauce, and was warm and sweet and every. single. bite. demanded a good swipe to sop up some of the delectable sauce it was surrounded by. It was completely worth over stuffing our stomachs. With dessert we ordered two glasses of sherry; one young Dow's Tawny and one Dow's aged 30 years. And even as a novice sherry drinker you can tell the difference in the clarity, the color, and the depth of flavor. Spring for the aged. It's definitely worth it.
If you haven't guessed already Myron's Steak House is priced according to its merit. And in our humble opinion, spring for the good stuff, it's worth it. For the best meal and experience, budget away and plan on at least $100 per person, better is $150. Live it up. Get that bottle of wine get that delicious filet steak, crack yourself some lobster, and if you're sipping on some sherry, make sure it's good. Get your cake and eat it too, even if you'll be regretting it at Das Rec the next morning. The taste and the place, in our humble opinion, is most worth it. <3
Myron's Prime Steakhouse is located right off the town circle in New Braunfels, TX.
Call to make reservations or just show up with fingers crossed.
136 N Castell Ave, New Braunfels, TX 78130
(830) 624-1024