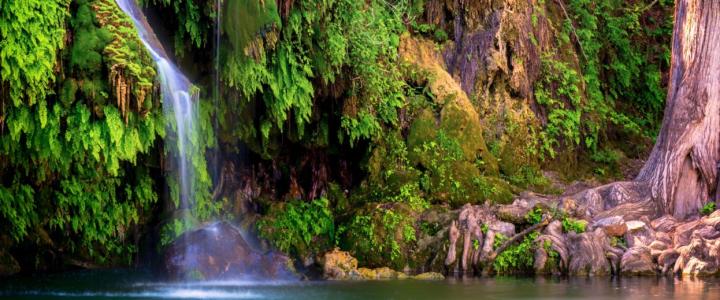 Krause Springs. Photo by JB Manning/Shutterstock.
All located just a short drive from Austin, these revitalizing destinations make for the perfect summer day trip. 
By Becca Hensley  Published: July 17, 2023
On a hot summer afternoon in Texas, nothing soothes the spirit (or lowers the body temperature) like a plunge in a crisp, cool swimming hole, its glimmering turquoise surface capturing the sun's light, its peaceful veneer inviting the world's most obnoxious cannonball. Can you resist? We can't. We're headed in a hurry to these nearby spots to practice our strokes. Grab a towel—we'll see you there.
Blue Hole (Wimberley)
Umbrella-like Cypress trees keep charming Wimberley's gin-clear Blue Hole shaded, while chilly waters complete the alfresco air conditioning effect. A nostalgically old school watery playground (which almost became a mixed-use development until locals rose up in protest), the large natural pool anchors the 126-acre Blue Hole Regional Park—a place awash with other recreational temptations, from volleyball courts to hiking paths. With rope swings likely to invoke Tarzan-style whoops of joy and acrobatic rings to expedite gymnastic water entry, Blue Hole reaches twenty feet of depth in certain sections. Pack a picnic to nosh on the ample lawns. Required reservations allow for twice a day swimming slots—9 a.m.-1 p.m., 2 p.m.-6 p.m., but guests can opt for both and stay all day; $12 for adults
Rio Frio (Concan)
Floating instills a sense of calm. Do it atop Rio Frio's frosty waters, as generations of Texans have tubed away their cares before you. Bobbing and weaving amongst a parade of other inner tubers, feet dangling in the emerald-hued wetness reigns as a Texas summer tradition. Paddle around Neal's Swimming Hole for the most authentic experience, where a spring-fed section of the river has been maintained since 1926 by a family-owned enterprise. Check into Neal's Lodges, an enclave of cabins and campsites for overnight stays. Or, come float just for the day. This oasis, part of Garner State Park, lies on the western verges of the Hill Country, just 75 miles from San Antonio. Fees vary according to cabin rental and tube rental, but floating down the river is free. Neal's Lodges' guest swim free in their pool, other guests pay $5; Garner State Park entry: $8, ages 13 years and older
Barton Springs (Austin)
Regulars arrive in bathrobes before official opening hours, polar bear wannabes fearlessly leap in on New Year's Day, lap swimmers do long course swims, and a coterie of topless sunbathers still gather beneath the colossal shade tree, opposite the main entrance, behind the diving board, adopting a 1970's liberation vibe. Barton Springs, located minutes from downtown in Zilker Park, draws every type of swimmer to its glorious, crystalline iciness. Enwrapped by grassy hills and stretching around 1,000 feet, the spring-fed sanctum feels a world away from urbanity. While swimming, keep an eye out for the pool's own endangered species, the blind salamander. 8 a.m.-10 p.m.; $5 for adults (local)
Krause Springs (Spicewood)
Encompassing 115 verdant acres, family-owned Krause Springs rules as a decades-old, back-to-nature entertainment extravaganza, smack dab in the middle of the Hill Country. It boasts 32 pristine springs, some of which feed the idyllic pools (both manmade and natural) with invigorating 68-degree water. With an honored place on the National Register of Historic Places, the retreat not only offers swimming holes of various depths, but other amusements, such as trails, picnic tables, a waterfall, a grotto, and an intriguing butterfly house. Krause Springs is an easy drive from Austin or San Antonio and also offers camping options. No reservations, but capacity fills fast. Open 9 a.m. to 8 p.m.; $10 per adult, $15 per person for camping
Landa Park (New Braunfels)
Whoosh down a two story Wet Willie slide into this historic pool, set amid stunningly green Landa Park. One of Texas' oldest and perennially popular swimming locales, Spring Fed pool (as its aptly named) gets fed by the unspoiled Comal Springs network, the biggest in the state. While the pool refreshes at its steady chill of 72 degrees, it also delights with a myriad of attractions, including a diving platform, slides, a mushroom fountain, a rope swing, and a thrilling overhead cargo net for climbing. An indoor Olympic Pool and Zero Depth pool are also available, as well as the park's other offerings:  a golf course (plus miniature golf), paddle boats, a kids-sized train, nature trails, picnic area, and river tubing portals and more. Spring Fed Pool requires no reservations and is open everyday except Tuesday, noon-7 p.m., 10-7 p.m. on Saturdays. $6 for adults, $8 on weekends.
Deep Eddy Pool (Austin)
An asylum from the sun, a meeting place for neighbors and regulars, and a paradise for children, man-made Deep Eddy on the edges of Lady Bird Lake in West Austin is purportedly the oldest swimming pool in Texas. Its characteristic bathhouse dates to the Depression, though the pool became a retreat from the heat long before. By the 1920s, it vaunted a carnival-like atmosphere, with a ferris wheel and carousel. Today,  the pool remains a favorite workout destination for serious swimmers, as well as a sanctuary for seekers of fun. Lap swimming is open 8 a.m.-8 p.m., recreational swimming is open 10 a.m.-8 p.m.; $5 for adults (local)
https://www.austinmonthly.com/seven-refreshing-central-texas-swimming-holes-to-visit/