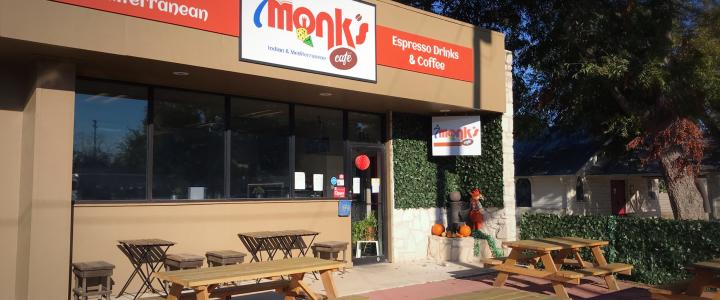 The previous 7 Monks was adorable. It pulled together, and served, a combo of niche markets and sub cultures. It was shelves upon shelves of comic books, collectibles, and general nerdity that would make any worthwhile otaku hyperventilate, and a mini café that served THE ONLY AUTHENTIC INDIAN FOOD IN TOWN! It was a tiny, well lit, and pleasant place to be and eat. We might still be mourning it just a little... But the new 7 Monks has cured our Indian food withdrawals and then some!
7 Monks rethought, reshuffled, reorganized, and reopened (PRAISE THE LORD!) at 494 N Seguin Avenue on October 23rd. They're still adorable and easy to hang out in, but they're now focused solely on fresh cooked food. And boy is it good food.
We stopped by the other day and were thoroughly impressed. The whole menu is composed of their family's recipes. There's "Momma's Tikka Masala", "Grandma's spicy Indian Pickles," and "Dad's Signature Aloo Gobi". They're cooking up classic, passed down through the generations, favorite home-cooked Indian recipes for us! you beat that?!! No. No you can't.
The interior of the new 7 Monks Cafe is shiny, and bright, with color pops, and good lighting. It's an easy place to get a plate and munch as you read a book. There's a little shelf in the back full of books and games for you to borrow (and then dominate your friend at) and a TV setup near the door that's playing either Indian movies or music videos (I didn't watch long enough to figure it out).
Not only is everything made to order now, but you can customize it however you want. I.e. How much would you like to set your mouth on fire? Mild, Medium, Spicy, or All The Way on Fire (Indian Hot). I, of course, chose the classic Butter Chicken Masala, set to "Please set my mouth ablaze"! It was amazing. They committed to that spice level! They didn't dumb it down at all, which I supremely appreciate.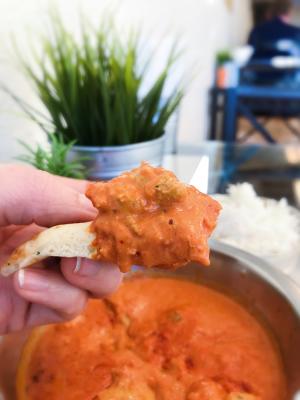 I have battled with Asian food restaurants (across the board) to give me actually spicy food, and I have gotten to the point were I place my order as follows:
"On a scale of hot from 1 - 10, make it a 12! I want it center-of-the-sun spicy. 
Make it the absolute hottest you can and then make it hotter! YOU - CAN - NOT - make it too hot!"
And still, unfortunately, most of the time, I end up having to pull out the chili flakes or oil, siracha, or tabasco at home to amp up the spice. Which bums me out because it then messes up the original flavor profile. 
Not at 7 Monks! Bless them! It was the perfect amount of heat and they didn't lose any of the flavor of the dishes in fulfilling my desire. It was AMAZING! Rich, creamy, delicious and of course buttery (there in the name) tomato curry that reportedly has a secret infusion of their grandma's spices. We loved scooping it up with torn peices of the Garlic Naan (beyond delicious) over the rice.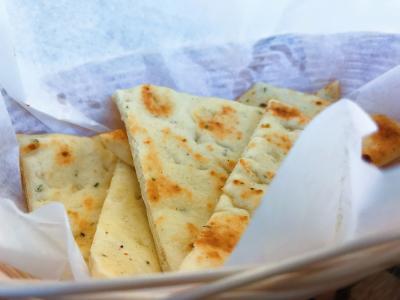 7 Monks owners, Rashmi and Neeta spent time in Europe, and were inspired by the cuisine there. They developed a Mediterranean side to their menu that wasn't at the former location! We tried out the Falafel Platter which was vegetarian "meatballs" that were fried, served with rice, lettuce, tomatos, and both a chili sauce, and a creamy sauce. It was a little peppery and I could taste hints of coriander (which I love). The drizzled sauces were the proverbial icing on the cake.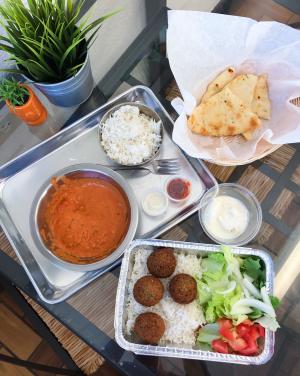 The Rasmalai was delightful! Slightly sweet but savory, spongy cheese balls that were in a sweet cream sauce. It was served cold and was a light and lovely refreshing antithesis to the intense flavors and spice of the rest of the meal. And I of course forgot to get a photo of it except for this shot from space where it's that little clear cup of white on the table between all the dishes. It was good okay? You'll just have to trust me on that one. Or get your own and let me know what you think!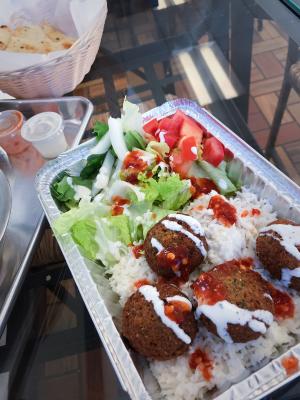 The point is: Go see them soon! Order the foods! Get so much curry! Smash a Rasmalai! Don't let them leave us without good Indian food again! Because, I will totally cry. 
<3
7 Monks Café
"Serving Indian and Mediterranean Entrees, award winning sandwiches, and fair trade coffee with espresso bar."
Available for Catering. 
494 N Seguin Avenue,
New Braunfels, TX 78130
(830) 387-4053