What to know before you go.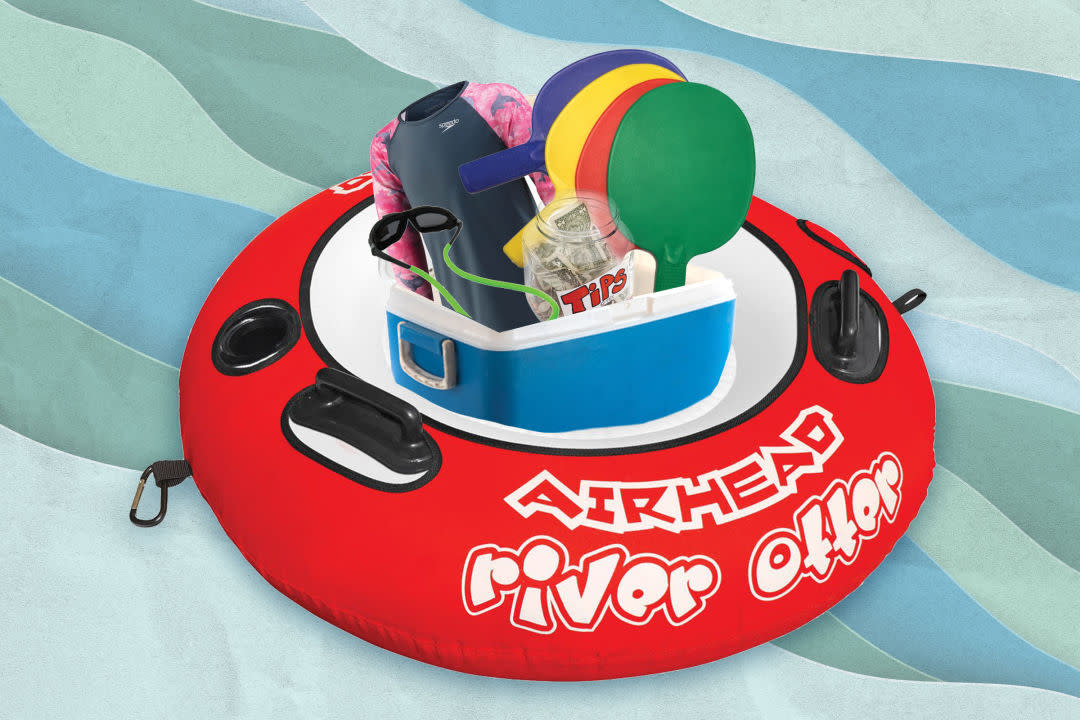 Everything will get wet.
Most rental spots hold keys and IDs until your return, and some offer rental lockers. You also can lock items in the car. "A lot of people leave food in cars, do a trip, get out and picnic, and go again," says Rockin' R manager Shane Wolf. If you simply must bring your wallet, phone, and vape—yeah, bro, we see you—secure them in a waterproof dry bag like an Earth Pak. And do buy those Toobies for your sunnies.
Never tie your rafts together.
Imagine going one way around a tree in fast-flowing water while the six rowdy BFFs you're tethered to go the other way (pop!). Hold your cooler tube and, more important, dog tube with your feet or carabiners, which are easy to unclip.
You can't control the weather.
Sometimes that means your trip will be delayed or canceled. Of course, you can control your own actions, so stay off banks that are private property (pretty much all of them), respect the wildlife, be mindful of noise ordinances while blasting "Let the Bodies Hit the Floor" for the eighth time, and always keep the kiddos (and dogs!) in life jackets. As for those pesky rapids? Just wait until they spin you right-round and spit you out. Or make like a local and use Ping-Pong paddles to expedite the process.
You don't make the rules.
Depending on where you go, there are age limits, as well as cooler- and tube-size limits, so review those before you travel across the state. And one more thing: Tip your shuttle drivers! They deserve it after hauling all of us sopping-wet people around all day.
You will get fried. 
Even if you swear you applied sunscreen everywhere, only a hat, a rash-guard swim shirt, and (dare we say) breathable leggings will truly ward off the sun, mosquitos, and those pesky hot spots on your tube. Another pro tip from Wolf? Cover your tube in wet towels, and it will stay cool.
The rules for alcohol use vary.
In New Braunfels, single-use containers (cans, bottles, Ziploc bags, etc.) are banned. That's why you can float the Guadalupe with a 12-pack of Love Street in sections outside city limits but must carry your beloved brew inside a growler or keg in town. State parks, meanwhile, do not allow alcohol, while the city of San Marcos allows it in the river but not on land. Find out which laws apply to your stretch of river before you pack the cooler, and do stay hydrated, too.
- Gwendolyn Knapp for houstoniamag.com | June 9, 2020