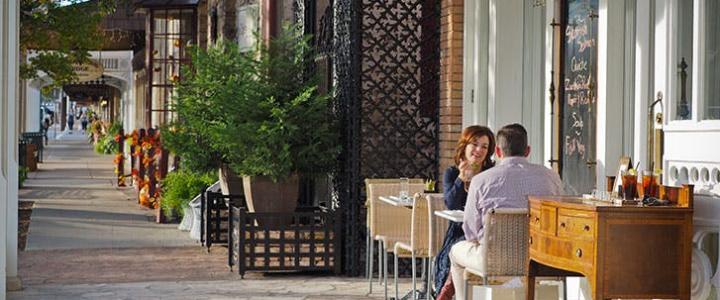 By Diana Oates 
| Jan. 21, 2021
As John Steinbeck so eloquently put it, Texas is the obsession. And if you've lived in Texas long enough, chances are that you've checked off all of the big cities on your Lone Star State bucket list that make you love it so much. But what about the small towns in Texas that are equally—if not more—unique? Here are six of the most charming small towns in Texas that definitely deserve a stopover on your next road trip.
Editor's note: Please read up on state and local health and safety guidelines before travel in order to stop the spread of COVID-19.
RELATED: THE 10 MOST BEAUTIFUL PLACES IN DALLAS YOU DIDN'T KNOW ABOUT
PHOTO COURTESY OF TRISH RAWLS
1. FREDERICKSBURG, TX
Texas wine. German food. History, art, and culture galore. What's not to love about this crown jewel of the Texas Hill Country? And while you surely can make a dent in the downtown area on a day trip, we highly recommend staying for a night or two. As the second German town in Texas, this town's deep German heritage can be seen throughout everything from the architecture to the food and everything in between. Read more about how we'd spend our weekend there here.
Where to stay: We recommended Hoffman Haus back in 2017 and we are recommending it now. For first timers, you simply cannot beat the proximity of this picturesque property to the main drag of downtown Fredericksburg. Plus, the way they serve your breakfast in little picnic baskets delivered hot to your door just makes our hearts go pitter patter.
2. GRUENE, TX
If you want to feel like you are living in a country song, head to this live music mecca for a day, night, or weekend of good times and tunes. Pronounced "green," this dreamy little town is set on the Guadalupe River and is now actually a district within the city limits of New Braunfels. The highlight of the town is Gruene Hall which is known for its live music and the impressive artists that stop in to sing a few songs.
Where to stay: If want to stay in town, Gruene Mansion Inn offers guests beautiful Victorian-style lodging along the river. Our recommendation, however, is driving a minute or two and renting a property of your own through Airbnb (this adorable farm house, this cool cottage or this river haven, for example).
3. GRANBURY, TX
Texas history buffs with a hankering for good food and drink will love this quaint town full of fascinating museums including Hood County Jail Museum, Bridge Street History Museum, Granbury Historic Railroad Depot and the Granbury Opera House. Also worth checking out is the beautiful Lake Granbury, which is one of only three lakes that were formed by damning the Brazos Rivers.
Where to stay: Despite being just an hour and a half from Dallas, The Inn on Lake Granbury makes you feel like you are hours and hours from the hustle and bustle. Best of all? It's only 2.5 blocks from the downtown drag without compromising on those gorgeous lake views.
4. LUCKENBACH, TX
…And everybody together now. "Let's go to Luckenbach, Texas with Waylon and Willie and the boys". Sure, there aren't exactly many sights to explore in this small community but what it lacks in attractions, it makes up for with charm. This is the quintessential Texas spot to pop open an ice-cold beer and relax while eating a hamburger from the feed lot and listening to some live music. Interesting fact: A 2006 census tallied the official population of Luckenbach as three people strong.
Where to stay: These quaint lodges are right across the creek from Luckenbach and its famous dance hall.
PHOTO COURTESY OF VISIT MARFA
5. MARFA, TX
Are you even really on Instagram if you haven't seen the Prada Marfa installation at least 100 times? Well, not to burst an influencer's bubble of anything, but Texans have been flocking to this West Texas town for years to enjoy its serenity and complete contrast to the rest of the state. Creatives also flock to this area to enjoy modern art installations, the Chianti Foundation, and the historical architecture. It's also close to Big Bend National Park which is one of the most underrated attractions in the state of Texas.
Where to stay: If you are dying to stay in a yurt, tepee, or safari tent, you'll want to check out El Cosmico, however, if you are actually wanting a slightly more swanky situation, we think you'll enjoy the Saint George which is an elevated version of the 1886 original.
6. ROUND TOP, TX
People from around the country travel to "not your Grandma's roadshow" to attend the Round Top Antique Show. This is an event that brings national attention to this otherwise sleepy town that manages to mix interior design and small-town Texas. And when we say small town, we're talking a grand total of 85 people in 2019. There's just something about walking the downtown, eating a meal at Paw Paw's Firehouse Café before heading to the show to throw down thousands on vintage rugs and furniture. It's all about balance, right?
Where to stay: For a town as tiny as Round Top, the rental home market is strong. And you are either the type of person that will vibe with the ultra-calming vibes thrown out by The Vintage Round Top or craving a little something funky like the cool container rooms at Flophouze.