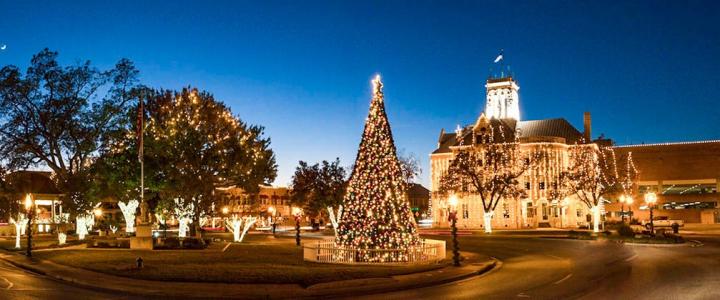 By Hillary Richard
October 18, 2022
Every year, millions of people tune in to watch wholesome, festive Hallmark Christmas movies filled with holiday cheer. While the "meet-cute" drives the plot, we all know the real star of these films is the setting. An uplifting rom-com just wouldn't be the same without it taking place in a small town where the holiday celebrations are so perfect, they make you search your soul.
Picture this: Main Street decked out with wreaths and twinkling lights, a majestic tree aglow in the town square, and the townsfolk's gracious welcome. Heartwarming vignettes like these come to life each holiday season in picturesque small towns all over Texas. This winter, prepare to fall in love with these 5 Texas towns, all sprinkled with a little Hallmark movie–style magic.
"A Very Coastal Christmas"
The sand sculpture of Santa and his elves in Port Aransas. Photo courtesy Port Aransas Tourism Bureau
Blessed with one of the nicest powdery beaches in Texas, Port Aransas is a year-round slice of paradise. Add beach bonfires and Christmas lights to the mix, and Port A—as locals call it—could be the setting of a romantic coastal Christmas flick.
During the annual Lighted Boat Parade, the island's boat owners decorate their vessels with colorful lights and sail them around the marina. The boat parade is on pause in 2022 due to construction, but you can still see festive lights during a drive through the Enchanted Holiday Forest display at Roberts Point Park, accompanied by a Christmas tune soundtrack.
No Christmas season in Port Aransas is complete without the Santa sand sculpture, which shows off the town's eclectic side and artsy undercurrents. Colorful boutiques, beach shops, fishing outfitters, and souvenir stores help make this barrier island town along the Gulf of Mexico a fun shopping experience.
For those who take refuge in the great outdoors, there are 5 nature preserves and 6 sites along the Great Texas Coastal Birding Trail. Who else enjoys long walks on the beach and birdwatching? What adventures could you have if you rent a golf cart or scooter and zip around town like a local? What if you awaken your inner coastal artist? What might happen if you try surfing lessons or go stand-up paddleboarding? The stories practically write themselves.
Read more: 3 delightful Texas beach towns
"The Christmas Parade"
A treasured Christmas tradition in Boerne, the Weihnachts Parade celebrates its 35th anniversary in 2022. Photo courtesy Visit Boerne
Boerne is a quaint German town that comes alive each December with holiday markets and a sparkly town tree that stands next to a beautiful gazebo. The fusion of Southern charm and European influence creates a unique Christmas environment—with scrumptious baked goods.
A Hallmark-worthy holiday vacation would include some of the town's most heartwarming traditions. On the first Saturday night in December, up to 100 floats and bands travel down historic Main Street spreading Christmas cheer in the Weihnachts Parade, now in its 35th year. Shoppers saunter through the Hill Country Mile, a downtown shopping district with locally owned boutiques, restaurants, and galleries. During the district's annual Stocking Stroll, a popular ticketed event, you can gather special gifts from participating shops.
Throughout December, you can enjoy costumed revelers, ice-carving displays, music, crafts, late-night shopping, and other festivities.
Elsewhere in town, the Boerne Concert Band performs a traditional holiday-themed concert in the Boerne High School Auditorium, the First Baptist Church holds 3 free performances of Worthy King of Kings and hosts Burning Bright, an evening walk-through light show with activities and refreshments. At St. Helena's Episcopal Church, visitors can bring the Christmas miracle to life with Walk Through Bethlehem, a live Nativity with camels and all. 
"The Santa Claus Cavern"
At New Braunfels, people of all ages can ice skate under trees illuminated with twinkling Christmas lights. Photo courtesy New Braunfels Convention & Visitors Bureau
Stroll past leafy parks and antique shops while you admire New Braunfels' charming 19th-century German architecture and heritage shops. Established in 1868, Naegelin's is the Lone Star State's oldest continuously operating bakery, and Henne Hardware is the state's oldest continually operating hardware store. Both offer a charming peek into the past as well as a unique spot to find Christmas presents with a story.
During the town's annual Wassailfest around the Main Plaza and San Antonio Street, businesses create their own blend of wassail for customers, who vote on the best recipe; the holiday cheer increases as shoppers stop by local booths and listen to live music while waiting for the winners to be announced. In the Gruene Historic District, Cowboy Kringle puts a town spin on the traditional Santa.
For something more traditional, visit one of the town's holiday shows, such as the American Dance Company's production of The Nutcracker. On select days in December, Natural Bridge Caverns hosts "Christmas at the Caverns," where Spelunker Claus will pose for pictures with kids and adults and carolers sing in the cavern chambers.
"A Merry Marble Falls"
Stroll along the Walkway of Lights at Marble Falls. Photo courtesy Visit Marble Falls
Even if Marble Falls didn't already sound like a town that would be featured in a Hallmark movie, its Christmas celebrations certainly would. Go ice-skating downtown and then catch up over hot cocoa while marveling at the larger-than-life town Christmas tree. Or perhaps stop by Blue Bonnet Café, which has been making delicious pies for nearly a century.
Marble Falls has 44 nights of festivities (from November 18 to December 31), including cookie decorating, holiday concerts, and a Sip and Shop event along Main Street. You might be a grinch if you don't feel warm and fuzzy here. The town's Christmas Card Project encourages people to write cards for local senior citizens in assisted-living homes. The Christmas Market on Main has more than 50 artisanal booths to help you find the perfect holiday gift for everyone on your list. Ice sculptures carved by power tools decorate the downtown.
This little town lights up in a big way each night with the Walkway of Lights, a free event along the waterfront that starts with a tunnel of blue lights and takes visitors on a decorative journey that would make Clark Griswold proud. 
Read more: 7 awesome pies for your holiday meal
"The Miracle in Marshall"
During Christmas, the iconic Historic Harrison County Courthouse in downtown Marshall gets even more eye-catching as it's lit up with thousands of lights. Photo by Spiritofamerica/stock.adobe.com
Marshall's real-life path to holiday cheer is a plot straight out of a Christmas movie. In 1987, the town found itself in its worst economic downturn in its history. Marshall News Messenger Editor George S. Smith wrote an editorial that started with, "Picture this …" He advocated for Marshall to "rival any other Christmas lighting scene in the area" to help raise spirits and the economy. When a former Marshall resident read the editorial in France, he sent a $25,000 check with a simple note: "Have your wish."
Marshall is full of intriguing historic buildings that will light up your imagination, from the Michelson Museum of Art (donated by Leo Michelson's widow) in the Southwestern Bell Telephone Building to The Ginocchio, an 1896 vintage railroad restaurant.
Starting November 23, visitors can experience some of Marshall's luminary magic during the Wonderland of Lights, one of the largest Christmas festivals in Texas. The illumination of the 1901 Historic Harrison County Courthouse involves millions of white lights. Marshall takes its dedication to Christmas seriously. There's a Christmas parade, a Christmas car show, an outdoor skating rink, a vintage carousel, a Christmas train, outdoor markets, and of course, a Wassail Walk down (what else?) Main Street, where merchants compete for the coveted "Taste of the Town" shoppers' choice award.