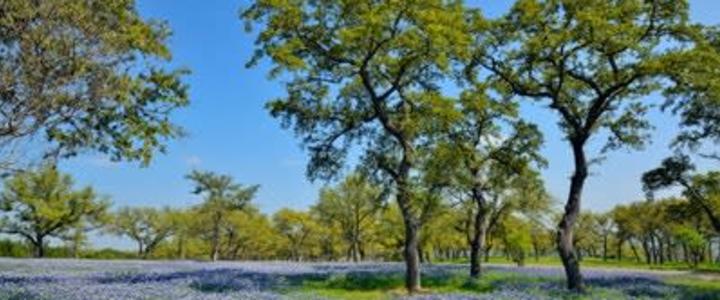 Best Day Trips from Austin
As t-shirts and bumper stickers are quick to remind you, Texas is big. Austin, though, is strategically placed for a day trip. Nearby there's Round Top—population 91—to the east, home to one of the country's biggest and best antique fairs. There's Fredericksburg to the west, where you can get a taste of both Texas's German heritage and the Hill Country's top-notch wine. Gruene, where Willie Nelson has his own entrance to Texas' oldest concert hall, is to the south. Finally, Marble Falls up north is home to boating and paddling on Lake LBJ, as well as family-friendly pick-your-own-produce farms. Here, the best day trips from Austin.
Click the link to read our complete Austin guide.
Dave G. Houser/Alamy
GRUENE
In Gruene (pronounced like the color green), floating up and down the Guadalupe River on the weekends is a way of life. A 50-minute drive south of Austin via I-35, Gruene is designated a historic town by the state of Texas. Part of that history is musical. The likes of Willie Nelson, George Strait, Jerry Jeff Walker, and Lyle Lovett have all graced the stage at Gruene Hall, a true must-stop when you're passing through.
Courtesy Gristmill
RESTAURANT
Gristmill River Restaurant & Bar
$$
You'll find a mix of tourists fresh from floating the river—wearing shorts and flip-flops—and locals who have homes on the Guadeloupe here for their weekly steak dinner—wearing jeans and cowboy hats. With views of that same river from every table, it's a popular spot for evening outings (we highly recommend a sunset margarita). There's chicken-fried steak on the menu, but you're at this Hill Country institution for the real deal—try the bacon-wrapped filet or the pepper steak served with lime herb butter.
Courtesy Gruene Hall
ACTIVITY
$
The oldest dance hall in the state of Texas (still in its original 1800s-era building) is most famous for its country concerts, but swing, rockabilly, jazz, gospel, and folk musicians (both up-and-comers and big names) take the stage, too. Since the venue is long-respected for scouting its musical acts, the shows will entertain whether you know the bands or not. Limited seating is first-come, first-served, so give yourself plenty of time to grab a beer and find a seat on the benches in the back.
Getty
ACTIVITY
Rent inner tubes, rafts, and stand-up paddleboards to float down the wide Guadalupe River and take in the bluffs of Hill Country. Rockin' R offers different routes down the river and transportation both ways. They can advise on a route depending on what you're up for—a peaceful float or serious rapids. While it's a popular activity among families, many tubers are spending the day on the water drinking beer and getting sunburnt, so the atmosphere can get a bit rowdy.
Danita Delimont/Alamy
HOTEL
$
This inn, originally built as a residence for the town's founder, is a landmark in the area. It combines the feel of Texas cabin living with antique Victorian touches to create an atmosphere that's both romantic and relaxed. It's walking distance to all the best things in Gruene, including the shows at Gruene Hall, so you'll have easy access to enjoy the town. As for rooms, every one has its own porch, but if you can, score one that overlooks the river for the best view.
Powered by Expedia
Alamy
ROUND TOP
You may not be familiar with tiny Round Top, but the town annually draws massive crowds during spring and fall for one of the most well-known events in Texas: the Round Top Antiques Fair. Shoppers come out in droves during the twice annual, week-long event to peruse Americana and country furniture. Beyond antiquing, Round Top has music with concerts hosted by the Round Top Festival Institute, and Shakespeare at Winedale, a performance put on by the University of Texas, Austin.
Courtesy The Garden Co.
RESTAURANT
The Garden Co. Marketplace & Café
$$
Inside this converted farmhouse, food is heavily influenced by local produce. It helps that the restaurant owners run a nearby nursery. Expect filling salads and sandwiches that'll re-energize you to finish a day of antiquing. Lunch reigns supreme here, though the menu grows to include more meat options at dinner. If the weather is nice enough, sit out on the large rear patio that's shaded with a century-old oak tree.
Danita Delimont / Alamy
RESTAURANT
$
There is limited seating inside this ramshackle house covered in hanging pie tins, but that doesn't bother most diners, who are here for a slice of pie or coffee to-go on their way to and from antiquing or shopping. The chef puts her own spin on classic pies like pecan, apple, buttermilk, and chocolate chip, and offers seasonal and savory options, too. If you can't decide what to order, let the passionate staff guide your ordering choices at the counter.
Haylei Smith
HOTEL
$$
More than just a hotel, the Vintage Round Top has a devoted following on Instagram, a prolific design blog, and a line of bath products and home goods. A young, social media-savvy crowd and honeymooners book rooms as a result, and the entire place is often rented out for weddings and events. Once you nail down a reservation, expect more home rental than hotel. Swap the mini bar for a fully equipped kitchen, fireplaces, and a design aesthetic you'll want to replicate at home.
Haylei Smith
BAR
$
Locals buy wine by the case here, then stay in the tiny bar or on the shady patio to open a bottle before heading home. If you're not sure which wine to choose, tap the staff. They'll pour you a few tastes of their diverse, well-priced selections, and are genuinely hopeful you'll find one you love. Make a meal out of the cheese plate, which arrives with fresh jams and honey, artisan bread, nuts, and olives.
Courtesy Rancho Pillow
HOTEL
$$
An air-conditioned teepee, tower house, and tin-roofed "Love Shack" casita are just a few of the offbeat lodgings offered at this 20-acre ranch. A former artists' retreat, you can expect to rub shoulders with all types, from musicians and authors to international antique collectors. Long talks around the fire pit are integral to Rancho's charms; so grab a cooler and your neighbor, and gather 'round.
Courtesy Marbuger Antiques Farm
SHOP
One of the best antique shows in the world, Round Top's Antiques Week is no longer just one week. The event takes place over about two and a half weeks each fall and spring, and has stretched beyond Round Top to neighboring towns, where tents pop up in fields along two-lane Texas State Highway 237 for at least 20 miles. The main events are the Original Round Top Antiques Fair and the Marburger Farm Antique Show, both of which charge admission and are only open on the final days of the show, but there's much to unearth throughout the entire run.
Courtesy Townsend Provisions
SHOP
The staff at this gift shop is passionate about local artists and U.S. makers—they can tell you the story behind just about every product in the store, whether it's new or old. The small selection of antiques, gifts, letterpress greeting cards, and jewelry serves as tasteful Round Top souvenirs, but the room devoted entirely to vintage cowboy boots takes the cake. A step inside the boot room, even just for a photo, is a must.
Courtesy Bad Hombres
SHOP
Owner Armando Palacios has been collecting rare, vintage men's leather jackets from the '40s, '50s, and '60s for the past 20 years and you're here to try them all on. Almost all are a sturdy horsehide—brands include Harley Davidson, Buco, Langlitz, and Grais. Different options include motorcycle, aviator, and cafe racer styles, and don't forget to throw on a Levi's denim jacket. Most run small, what some might call a European cut—men were smaller back then, Palacios points out. Half an hour here, and you'll be feeling like Steve McQueen (appropriate, since his picture is hanging on the wall).
ACTIVITY
Formerly only a 19th century school house, the Round Top Festival Institute now encompasses 210 acres with 18 buildings, plus historic houses, elaborate gardens, and the 1,000-seat Festival Concert Hall. The Concert Hall, which took two decades to complete, is well-known as one of the most acoustically perfect performance venues in the country, and stands out with gorgeous Gothic-inspired woodwork. The Institute plays host to 100 of the world's top music students every summer, along with internationally respected conductors who work with the students over six weeks—concluding in the Texas Festival Orchestra performance.
Stephen Saks/Alamy
FREDERICKSBURG
Get away to Texas Hill Country with an excursion to Fredericksburg, an hour-and-a-half drive from Austin. The small central Texas town is full of romance—there are horse-drawn carriage rides, an active, exciting wine country, and charming antique shops all at your disposal. Not only that, but Fredericksburg is also famed for its German heritage, which is on display at the Pioneer Museum and at local biergartens.
Courtesy Lincoln Street Inn
HOTEL
$
Rooms at this restored rock house are filled with museum-worthy contemporary art, much of it Cuban. The rooms are "hip historic," with original stone walls and modern chandeliers. If you want a little more privacy, go with the Cardinal Cottage, a free-standing modern addition to the rear of the main house, with original barn beams, 160-year-old French doors, a 23-foot-tall hand-chiseled limestone fireplace, and a full kitchen with stainless steel appliances.
Claire McCormack Photography
HOTEL
$
Stay here and you'll feel like you're in a friend's home. That is, if your friend cooked a mean breakfast and dropped it piping hot at your door each morning. Located in a more residential area, just far enough from the action of Fredericksburg, the B&B is in a two-story house and has additional rooms in nearby cottages. (Hint: it's a good place for a romantic weekend.)
Powered by Expedia
RESTAURANT
$$
With a contemporary take on German staples, Otto's menu is an homage to Fredericksburg's German heritage. Drinks-wise, you can't go wrong with anything. The cocktails use ingredients from the restaurant's back garden and they'll pour you house wine from the tap (the beers are German, of course). The foie gras (with rhubarb marmalade, pickled butternut squash, and homemade brioche) is a reliable starter, as is the flammkuchen flatbread with Texas goat cheese, prosciutto, and a balsamic reduction. Note that it can get loud inside, so be prepared to shout just a little.
Courtesy Cellar Rat Wine Tours
ACTIVITY
The number of wineries in some parts of Hill Country, especially along Highway 290 outside of Fredericksburg, is too large to experience in a single day (not to mention they're too crowded on weekends). Booking this tour means that guides can create an itinerary of wineries with your preferences in mind, and make the reservations in advance. Since the guides all work or have worked in the wine industry, they have a serious rolodex of vineyard contacts—you'll likely have a private tasting room and access to winemakers.
Witold Skrypczak / Getty
ACTIVITY
Enchanted Rock State Natural Area
The mystical pink granite dome is a natural wonder and offers remarkable panoramic views of Hill Country. It's a steep walk to the summit, but novices (and kids) can make it up, with a few breaks to sit and enjoy the vista. You'll want to get here early, since parking is limited and the gates close when the lot is full, then reopen as spots become available. If you aren't claustrophobic, make time explore the dome's cave. It doesn't look like much, so your best bet is to follow the line of people that forms at the entrance.
Courtesy Emma + Ollie Bakery
RESTAURANT
$
It's like you're walking back in time when you enter the adorable brown brick home with a chalkboard sign that houses Emma + Ollie. Dishes and baked goods from the chef and pastry queen, Rebecca Rather, are like grandma made—including lemon bars and key lime tarts, scones and kolaches, pop tarts, and cakes like lemon-blackberry. The ooey-gooey French toast bread pudding with bourbon glaze and all-day beignets showered with powdered sugar are must-tries, as are the biscuits and pimento cheese BLT.
Courtesy Blackchalk Home and Laundry
SHOP
Inside a former laundry press in a hundred-year-old building, boutique Blackchalk Home and Laundry mixes new and found home goods as well as colorful fabrics, textures, and finishes. Handmade wooden furniture from Texas makers sits above Moroccan rugs and stands next to Italian lamps and hand-painted dishes from Turkey. Items from all over the world, both vintage and brand new, can be found within the brick walls and corrugated metal ceilings of this historic building.
Alamy
MARBLE FALLS
Marble Falls is an ideal Texas day trip destination, given that it's small enough to check off most of the attractions in a day, yet offers a wide variety of activities. Here, visitors will find wineries, placid lakes, and rolling hills. It's a relaxing, low-key town in which you can enjoy the splendors of nature in whatever way you prefer: farm-fresh produce, bluebonnets blooming in a field, or a day on the lake paddling or fishing.
ACTIVITY
Flat Creek Estate Winery & Vineyard
This winery, which has a Tuscan feel to it, is best known (appropriately) for its Super Texan Sangiovese, which has been recognized as one of the state's best wines for years. You might also try the Port VIII and Primitivo, alongside a robust food menu that includes a three-course pairing or a la carte options like inventive wood-fired pizzas. Almost anyone can make a day at Flat Creek—in addition to the wine and food there's a disc golf course, and the whole place is kid and dog-friendly.
Courtesy Sweet Berry Farm
ACTIVITY
Some 50 acres of farmland, with eight acres devoted just to strawberries, make up Sweet Berry Farm, where you can pick your own seasonal produce like berries, potatoes, peaches, onions, pumpkins, and tulips. There's more than picking, though: The Texas-shaped maze is ideal for families, as are the goats, horses, and donkey in the petting zoo. 
Alamy
RESTAURANT
$$
The Blue Bonnet Café has spent decades building its pie and comfort food-centric reputation, and on weekends, lines spill out the door past the black awnings. Coming here means indulging in stick-to-your ribs food: chicken fried steak, meatloaf, chicken and dumplings, pot roast, and fried Texas catfish. But the main event is the pie (they also have a pie happy hour)—with piles of toasted, marshmallowy meringue on lemon, coconut cream, peanut butter cream, and German chocolate cream.
Courtesy Horseshoe Bay Resort/Photo by Eric Kiel
HOTEL
$$ |  READERS' CHOICE AWARDS 2017, 2018, 2019, 2020
Perfectly trimmed palm trees surround this giant, stone-accented, 400-room resort that's right on Lake LBJ. It's 7,000 acres of country club meets lakeside yacht venue, where buttoned-up business execs and their families come to unwind and enjoy the plentiful amenities. Five golf courses, eight restaurants, multiple pools, and a full-service spa ensure that you can be as busy as you want to be on a visit. It's a fairly preppy, dressy place, though, so make sure to pack accordingly.
Powered by Expedia