May 9, 2023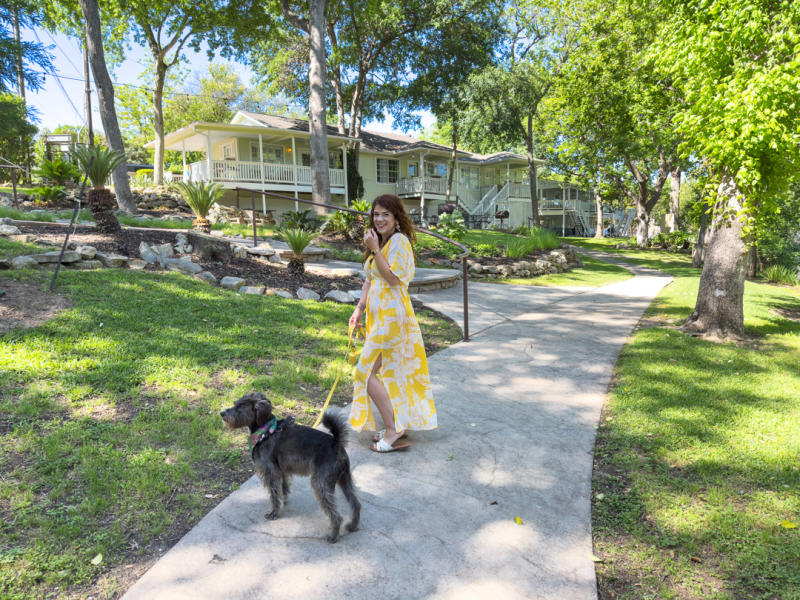 Texas Hill Country is home to many amazing small towns. Each one offering up their own unique vibe and list of things to do. New Braunfels is one of those towns. There is so much to do here, such as floating the Comal river, and there is a huge German influence on the food and beer scene. 
Being the craft beer lovers we were, New Braunfels' beer scene and its heavy German influence was more than enough to get us pumped for a fun weekend trip.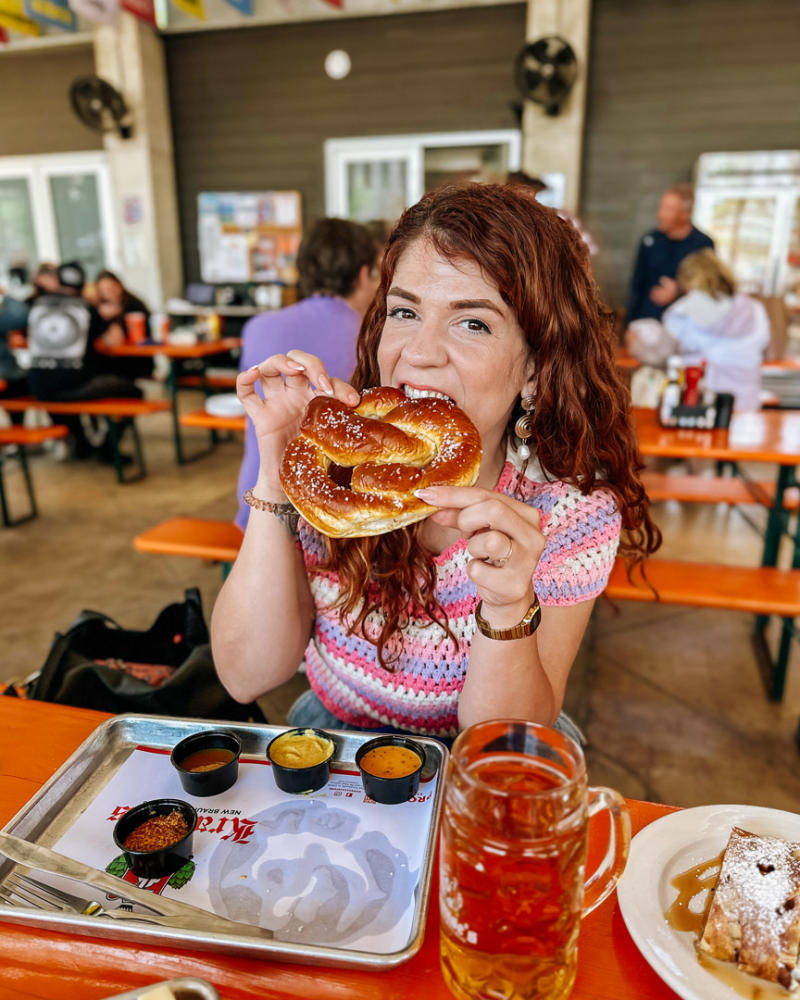 A Little About New Braunfels
Disclaimer: This post was created in collaboration with Play in New Braunfels. All opinions and ideas expressed are my own. Thank you for supporting the brands that support this blog!
New Braunfels was founded in 1845, by, no joke, a German prince looking to start a colony in what was at that time the Republic of Texas. Despite the fact that "New Germany" never came to be, New Braunfels stood the test of time. Today, it represents one of the most authentic German-American communities in the US!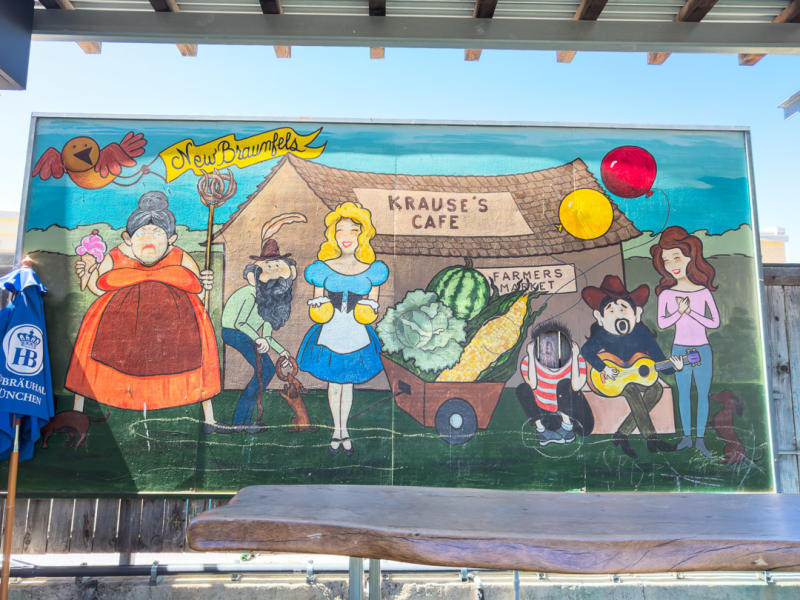 When the Germans were colonizing in America, central Texas was a hot destination and provided all the necessities to set up new towns.
Even today, New Braunfels is still a 'hot' destination with adventures and fun for every type of tourist. Being right between San Antonio and Austin, it's a short drive for those coming from either city.
Where to Stay in New Braunfels
There are so many wonderful places to stay in New Braunfels. Personally, we've experienced both a hotel stay as well as a cabin stay on the river. There are upsides to each– Hotels will typically keep you right in town, walking distance to everything. But with cabins, you're more likely to find a place that's right on the river, and who doesn't love to be on the waterfront?
Hotel wise, I love the historic Faust Hotel. If you're looking for that waterfront cabin, check out Comal River Cottages, which are also great for groups. And yes, both places are dog-friendly which you know we always love!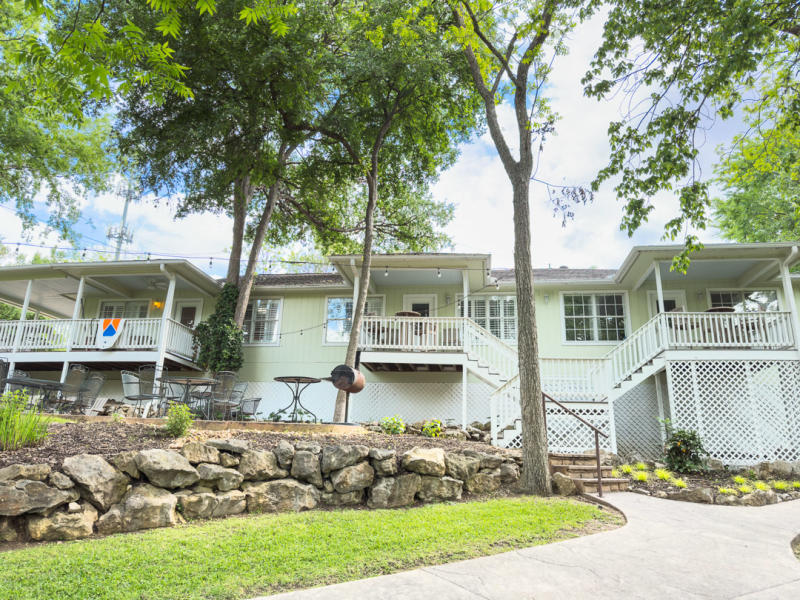 My Favorite New Braunfels Restaurants
When it comes to New Braunfels Restaurants expect to find plenty of authentic German food alongside all types of classic American eateries. Here are my top picks for where to eat in New Braunfels.
2 Tarts Bakery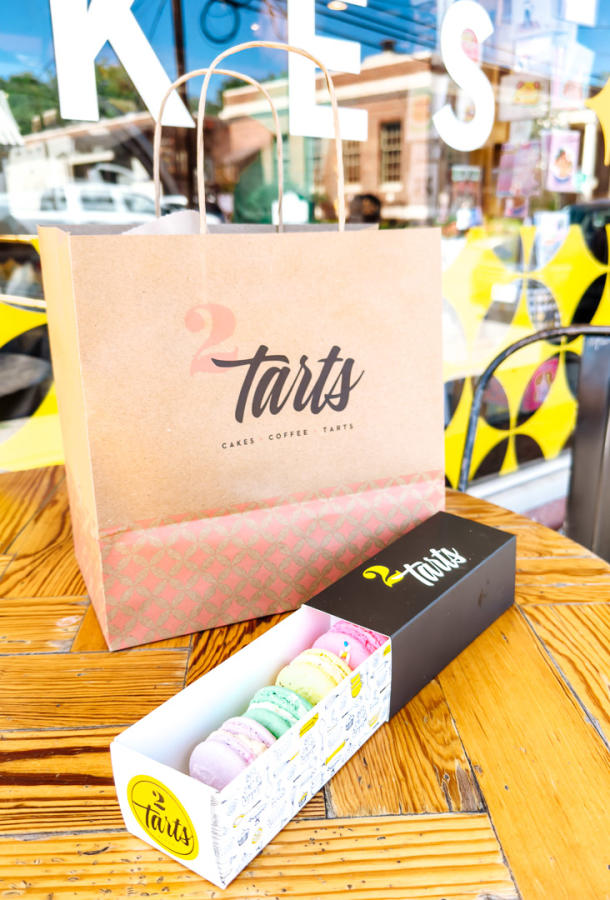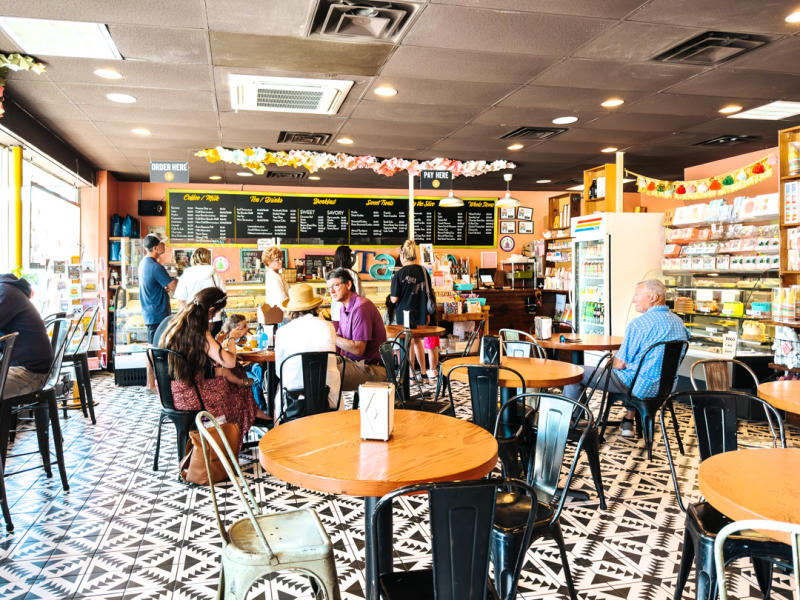 Bakeries and breweries are my favorite places to stop in any town, and 2 Tarts is the cutest bakery in New Braunfels! This place has such a massive selection of sweet treats, pies, cakes, and even savory bites in the morning.
Alpine Haus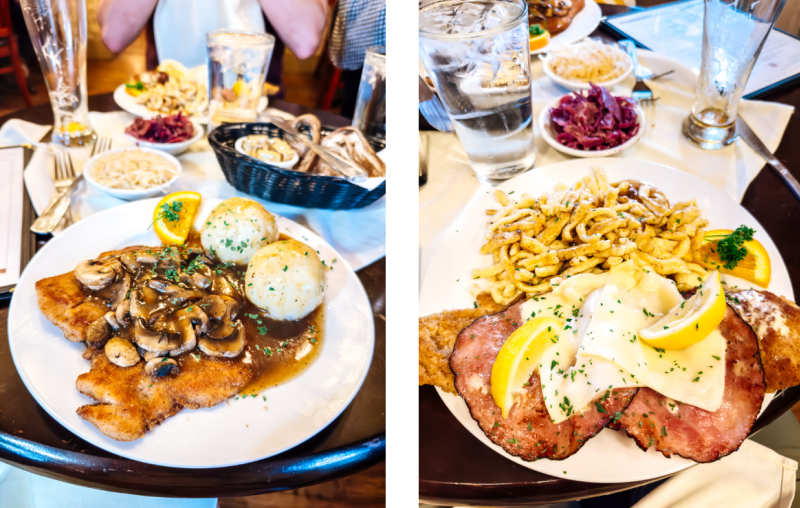 Soak up the German vibes up at Alpine Haus. This place will make you think you've traveled to Germany. There's all the classic German dishes alongside German beer served in a cozy farmhouse.
Naegelin's German Bakery
If you want to keep with the authentic German-vibes of New Braunfels, Naegelin's Bakery is a must-stop. For more than 142 years they have been baking up delicious strudels, pies, and other German treats. This spot closes in the afternoons, so make sure to come early to have the best selection!
The Root Cellar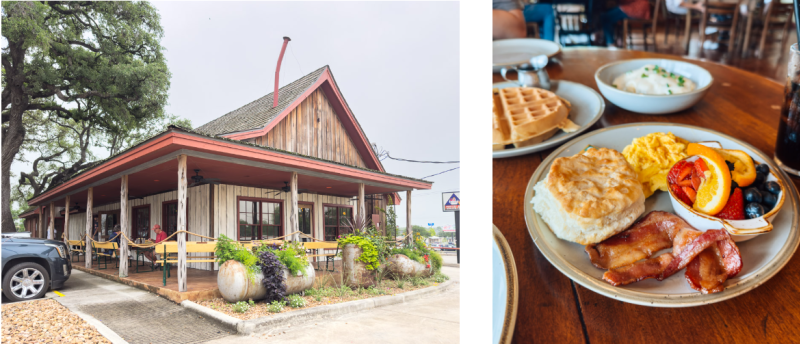 If you're looking for a good ol' fashioned American breakfast in New Braunfels, then look no further than The Root Cellar. The menu features a build your breakfast of sorts so everyone gets exactly what they want!
New Braunfels Bars, Beer Gardens, and Breweries
New Braunfels has plenty of options for those looking to imbibe. From hidden speakeasies to large beer gardens and local breweries, here are my top picks for where to drink in New Braunfels. 
Guadalupe Brewing Company (and Pizza!)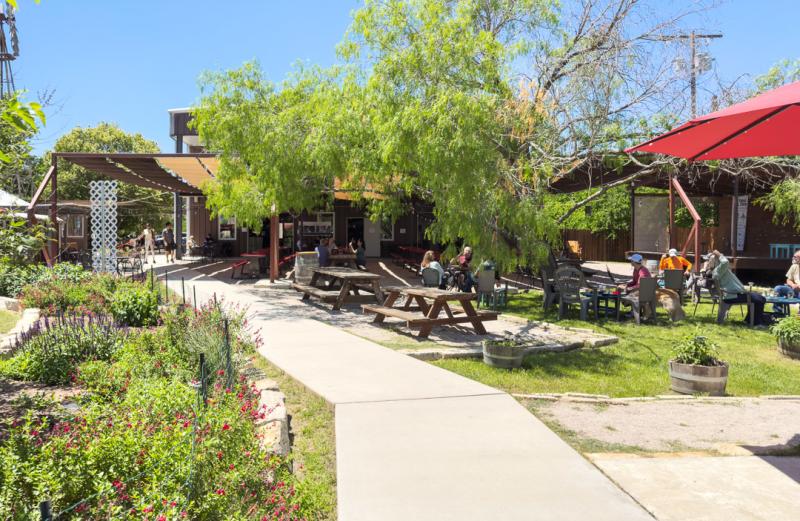 Guadalupe Brewing Company is one of the best breweries in New Braunfels and it's not hard to see why. The folks at Guadalupe Brewing Company are as enthusiastic about food as they are about beer. They have some staple items on their menu, but they're always trying out new things, so there's something for everyone.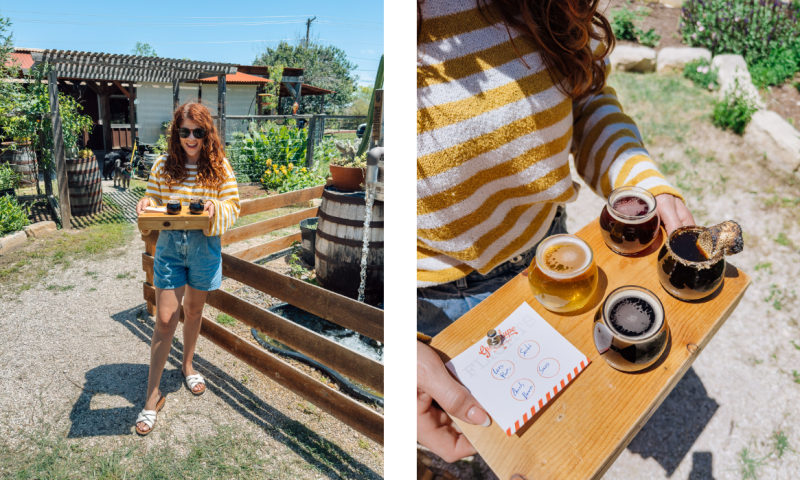 The kitchen serves up some amazing dishes like focaccia sandwiches and artisan pizzas that go beyond your regular pub grub. And let's not forget about the beer – they've got a wide range of options from blondes to a s'mores stout, and they're all delicious!
Krause's Cafe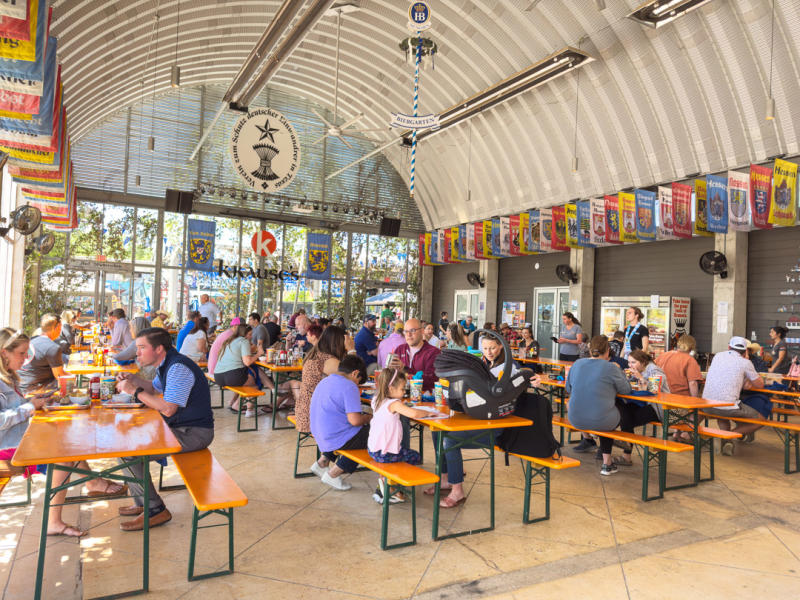 I don't like playing favorites, but Krause's Cafe is my favorite. Krause's Cafe is a dog and family friendly restaurant in New Braunfels that has been serving genuine German food for several years. The beer hall offers a wide range of German dishes like schnitzel, bratwursts, and apple strudel. However, what sets it apart is they beer collection, with over 100 different German and Texas beers on tap.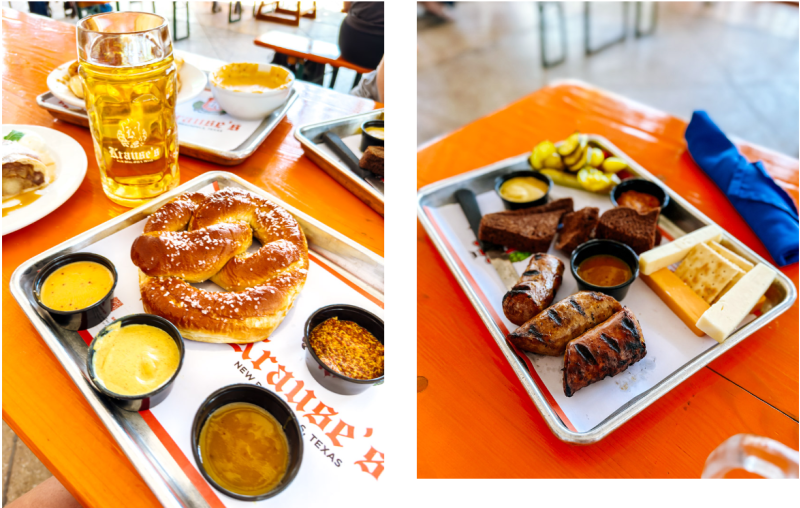 Krause's outdoor beer garden with live music is a great spot to enjoy your meal and brew. The beer garden hosts events like the annual Masskrugstemmen competition, where contestants hold a beer stein filled to the brim with beer the longest!
Magnolia Patio Bar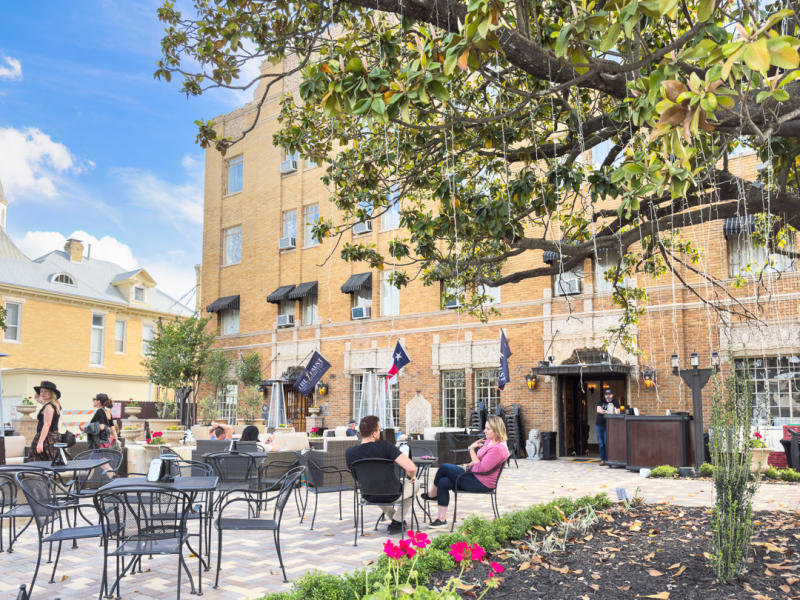 If you're looking for a nice and shady patio to enjoy a cocktail or two, look no further than Magnolia. Sitting in front of the Historic Faust Hotel, this bar features a dog-friendly outdoor space with hand-craft cocktails and small menu of shareable bites.
Sidecar Speakeasy Bar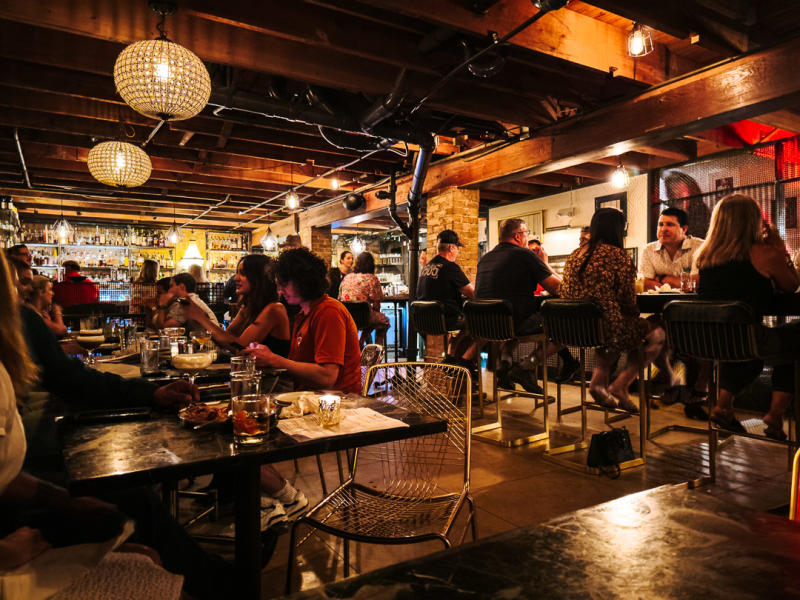 Sidecar is not just any ordinary bar, it is a New Braunfels hidden gem. Tucked away underground at the Prince Solms Inn, this speakeasy has a unique charm that is hard to find elsewhere. The ambiance is dimly-lit which adds to the cozy and intimate vibe of the place.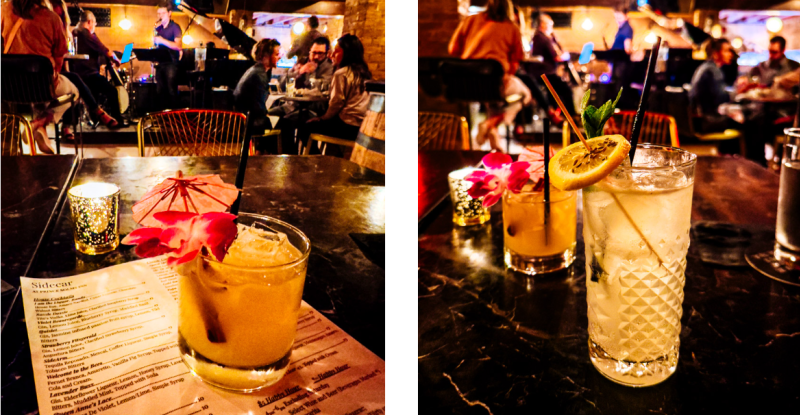 The cocktails are a work of art, created with fresh seasonal ingredients and classic spirits. Head to Sidecar for a night out with friends or a romantic date. Don't forget to drop by on Friday nights for live Jazz music that will add a special touch to your evening!
Best Things To Do in New Braunfels
So now that you know all the best places to stay, eat, and drink, it's time to talk about what to do in New Braunfels. A trip here most always requires a bathing suit and river shoes. There are plenty of things to do though if you're preferring to stay landlocked!
Go Tubin'!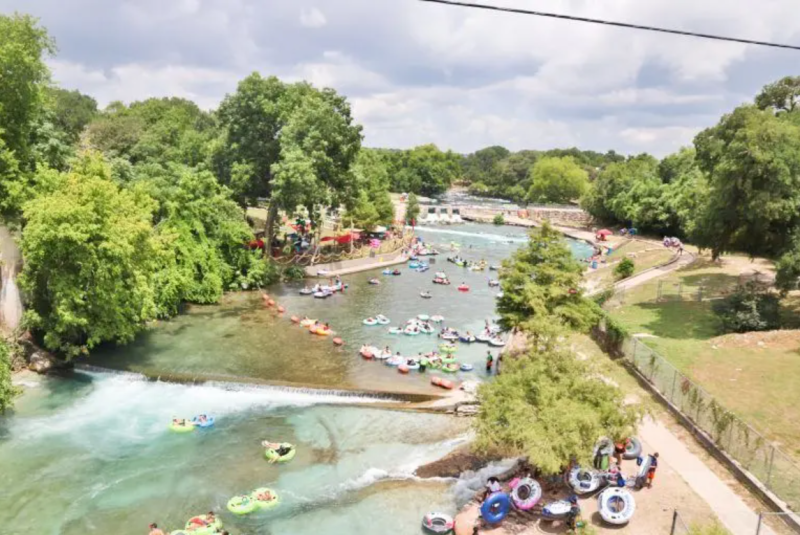 New Braunfels has two rivers: the Comal and the Guadalupe. The Comal is "the longest shortest river in the world," so it's a short float. The Guadalupe on the other hand, is the party river and floats can last up to six hours!
One of the most popular things to do in New Braunfels is floating along nature's cool and clear lazy river. And New Braunfels is home to two of the best tubing rivers in Texas: The Comal and The Guadalupe. There are plenty of tubing companies in town, but we've enjoyed tubing with Texas Tubes the most!
Travel Tip: Make sure to check the most updated river rules on what is and isn't allowed on the river (such as no glass!).
Schlitterbahn
Admittedly, I've never been to Schlitterbahn, which is a shame because it looks so fun! Especially for families! It's right in the heart of New Braunfels and it can be a little jarring if you're used to amusement parks being on the outskirts of town. But I kinda think that's a bit neat… Pack a cooler and bring the sunscreen if you're planning an afternoon at one of Texas's best water parks!
Whitewater Amphitheater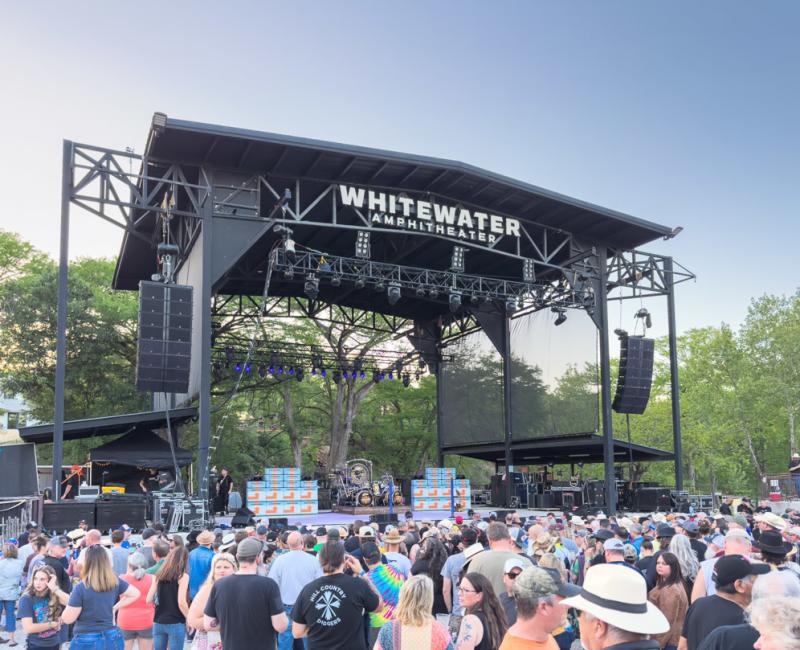 New Braunfels is a great place to visit if you love live music. From smaller dance halls, to the large, one-of-a-kind Whitewater Amphitheater, there is a venue for every type of music fan. Whitewater Amphitheater pulls in a lot of big acts too! (We saw Willie Nelson and ZZ Top here!) This one-of-a-kind venue that sits right on the banks of the Guadalupe River. 
Travel Tip: Ladies, double check the bag policy here! At the time of publishing, only clear bags were allowed in.
Farmer's Market
From 9AM to 1PM every Saturday, over 60 local businesses and makers gather in Downtown New Braunfels for the Farmers Market. I love visiting local farmers markets when I travel as it can be a great way to explore the local food and culinary scene, while also grabbing fresh flowers and a quick bite or two.
Explore Nearby Gruene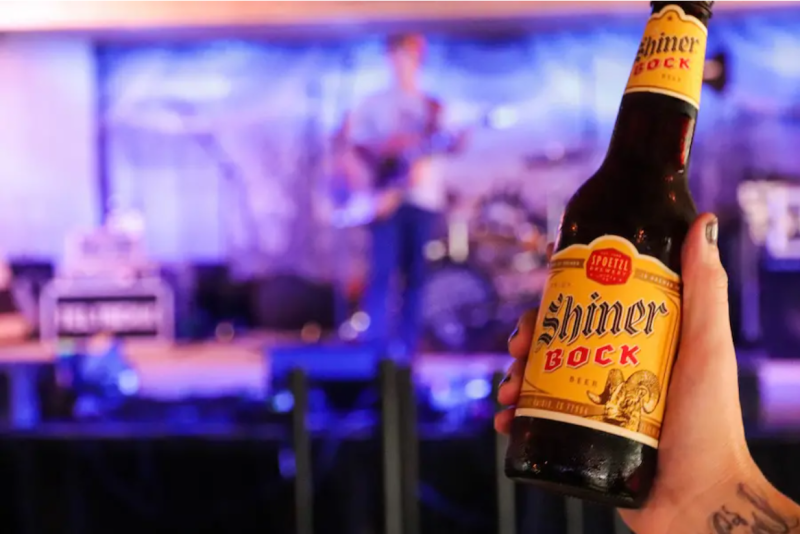 Right next door to New Braunfels is Gruene (pronounced like the color) that was originally settled by German farmers in the 1840's. Today it's home to Gruene Hall, the country's oldest dance hall, as well as quite a few adorable shops and impressive restaurants. We love coming here to spend the afternoon, or to have a nice date night out with dinner and dancing. 
Yearly Events in New Braunfels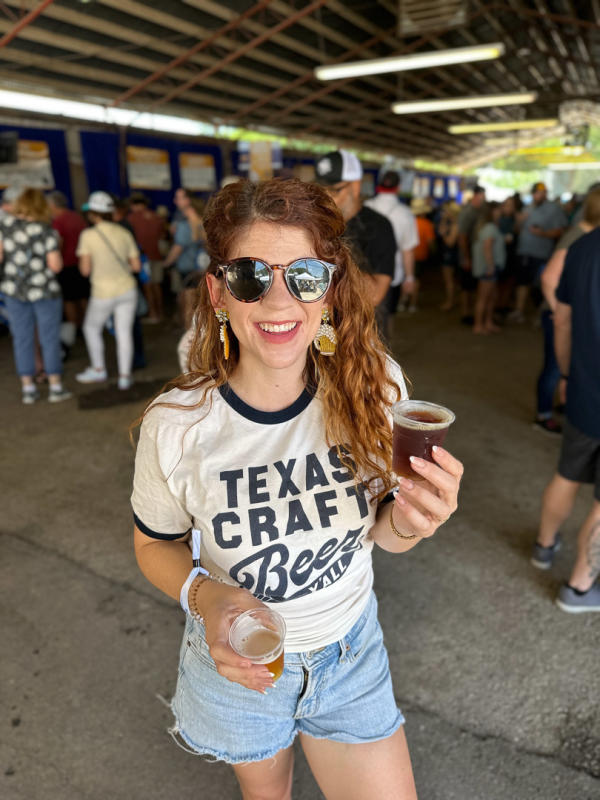 Hanging out at the Hill Country Craft Beer Festival in New Braunfels, Texas
No matter the season, New Braunfels always has something fun going! Wurstfest might be New Braunfels' most popular yearly event. It's pretty much Oktoberfest for Central Texas, but in November! Check out some of the other fun annual events in the area:
April – Hill Country Craft Beer Festival 
September – Comal County Fair 
October – Gruene Music and Wine Festival
November – Wurstfest
December – Christmas Market Days (Gruene)
Looking for More Hill Country Travel Guides? Check Out These Posts: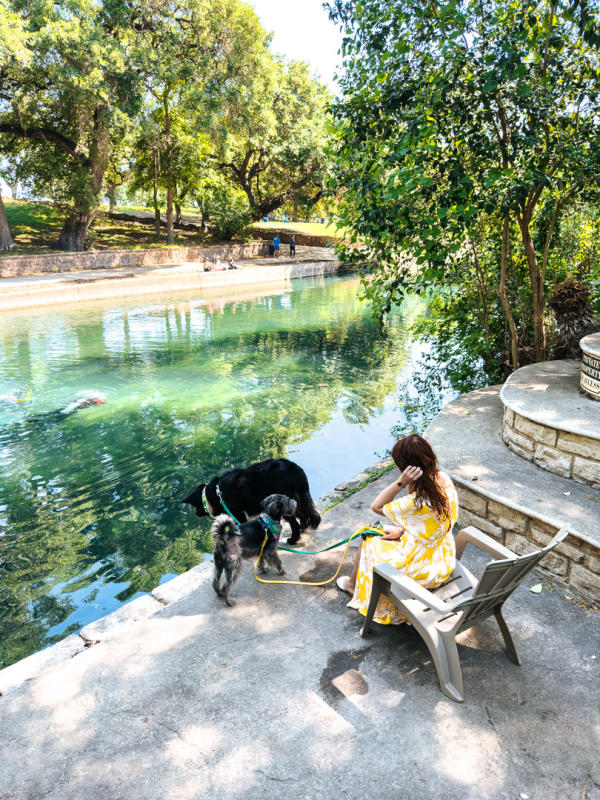 I hope you find this New Braunfels travel guide helpful! Whether you're planning a day trip, or a longer weekend trip, this town in Hill Country is one of my favorites. It's a great destination for beer lovers, as well as families looking to have a bit of fun in the water.
If you need more help planning your adventures in Hill Country, check out these blog posts: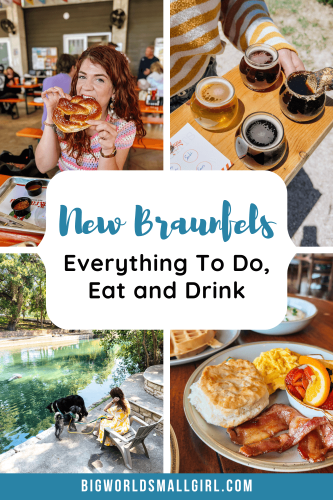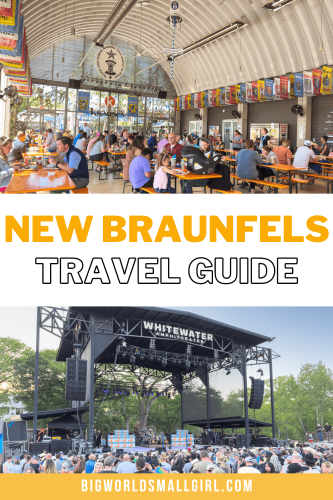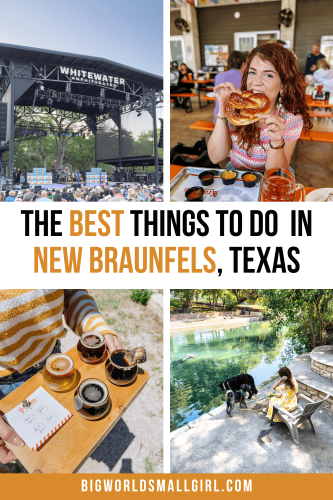 https://bigworldsmallgirl.com/things-to-do-in-new-braunfels-texas/