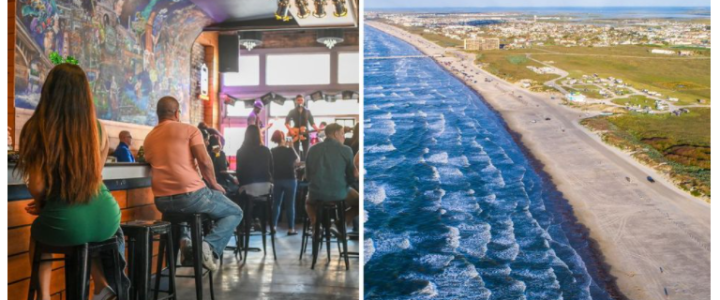 Spring break in Texas takes center stage from March when the region's weather is invitingly warm and the state's signature bluebonnets are vibrant and on show. Whether it's eccentric booze-laden parties, frolic-worthy beaches, bustling towns featuring nightclubs and live music, or picturesque camping and nature trails on the spring break menu, Texas has something for everyone looking to let their hair down and lose themselves in this fun time of the year.
There's no shortage of incredible towns, cities, islands, and nature hotspots to choose as a spring break base, but these ten should definitely be on the roster - and here's why.
10Austin, Texas
Texas' capital city of Austin is a top choice with its energetic live music scene and epic food. March is the month to visit thanks to the city's three-week festival - SXSW - that takes place during the universities' spring break period. Austin's entirety is transformed into a music venue, with enticingly cheap (and free in many parts) live music shows that are dotted all over the city. And the festival isn't the only draw - a tour of the Texas State Capitol is always a hot choice, and spring breakers often speak highly of the outdoor activities on offer at Barton Creek Greenbelt.
9Corpus Christi
The seaside city of Corpus Christi is for the spring break beach-lovers, but those that come to this stunning place will find that there's so much more on offer than powder-soft sands and glistening sea. The city's nightlife is highly rated, with famously fun nightclubs, incredible live music venues, cool sports bars, and a host of dive bars that make for a varied spring break experience for party-seekers. It's not all about the party in Corpus Christi either - other interesting places to explore during the day between drinking and dancing the night away include the Texas State Aquarium, South Texas Botanical Gardens, and the USS Lexington.
8Lake Texoma
Lake Texoma is situated right on the Oklahoma-Texas border and has become a haven for fun-loving spring breakers from both states. Easily accessible at only an hour north of Dallas, this stunning space consists of a colossal 89,000 acres in which to choose a spot to spend spring break. Fobb Bottom hosts booming parties on the banks and is a particular favorite, but those seeking peace and quiet will appreciate scoping out one of the many secluded, quiet spots perfect for fishing and picnicking along the lake's bank. Camping and hiking are also fantastic pastimes here, in between partying and enjoying the serene environment.
7Galveston Island
Ideal for beach bunnies, Galveston Island is one of the most popular beach towns in the state, which translates to masses of sun-chasing party-goers flocking to the area every spring break. The sandy beaches here are perfect for relaxing and playing on, and the exhibits at Moody Gardens are ideal for spending a few hours being fascinated when fed up with the seaside. But if that's too chillaxing, then the hilariously-fun pools and slides at Schlitterbahn Water Park will liven up the day.
6South Padre Island
 

A post shared by South Padre Island, Texas (@visitsouthpadreisland)
The coastal paradise of South Padre Island is a huge beach party hub for lively college students each spring break, who are drawn to the soft seaside and blue waters for a week-long celebration that's right out of a typical Hollywood spring break movie. This particular destination is well-known for its wild parties, epic concerts, and a flow of booze that never seems to end - so those seeking a quiet, peaceful spring break that's easy on the liver should definitely give this one a miss.
5Dinosaur Valley State Park
Just a two-hour drive from Dallas, this spectacular park was home to roaming dinosaurs once upon a time. It may be an unconventional spot to pick for spring break, but it's certainly unique in what it offers - real dinosaur tracks for one. But of course, dinosaur remnants aren't the only attractions here; there's camping, mountain biking, hiking, and swimming in the Paluxy River that attracts spring break-lovers to this historically significant park full of beautiful trails and jaw-dropping landscapes.
4New Braunfels
This Hill Country town is close to other popular destinations nearby - Fredericksburg and Luckenbach - which makes it a convenient base when exploring the area. Overall, New Braunfels is known for many things, and one of them is beer. Beer-loving spring break retreaters can sample a delightful host of delicious craft beers on a tour of all the New Braunfels microbreweries in the area (as long as they can stand up by the end of it!) Not a fan of beer? No problem - a day tubing down the Comal River or hitting the slides at Schlitterbahn Waterpark will excite adrenaline junkies. Plus, there's also Gruene where live music is on offer almost every day.
RELATED: These Unique Texas Towns Make For The Best Vacations
3San Antonio
With its exuberant city vibe and excellent outdoor activities available nearby, there are tons to do and see in San Antonio. Whilst the city may not have the loudest spring break scene, it's still a worthy destination for those seeking a fantastic city break full of attractions and lovely natural scenery close by. A great way to enjoy the daytime here is to explore the Alamo, and come night, the River Walk with its superb wining and dining establishments is the place to be. In contrast, those who seek to celebrate spring break amidst nature will love pitching their tent at the Government Canyon State Natural Area, which is the perfect secluded spot for enjoying a relaxing escape away from San Antonio's hustle and bustle.
2San Marcos
San Marcos town is the home of Texas State University and is brilliant for spending spring break amongst a sea of students with lots of partying going on in various venues. Aside from the celebrations, drinking, and dancing, there are other attractions to enjoy during one's stay in the town. The San Marcos River that partly runs through the town is the perfect place to take a refreshing dip for relief from Texas's hot weather after checking out the LBJ Museum, losing oneself in the shops, and savoring sumptuous treats at the many tantalizing restaurants.
1Port Aransas
Also known as "Port A," the coastal city of Port Aransas is another spring break destination promising gorgeous beaches and pretty fishing escapes. Mustang Beach with its miles of idyllic sands ripe for sunbathing, fishing, swimming, sandcastle-building, and bikini-clad beach sports is a magnet for sun-and-sea-seeking spring breakers, though there are other seasides in the area worthy of a beach towel too. Ultimately, those in search of the quintessential American beach spring break - featuring fun, frolicking, partying, and booze combined with sun, sand, and sea - should add Port Aransas to their future spring break itinerary.
https://www.thetravel.com/best-places-to-celebrate-spring-break-in-texas/