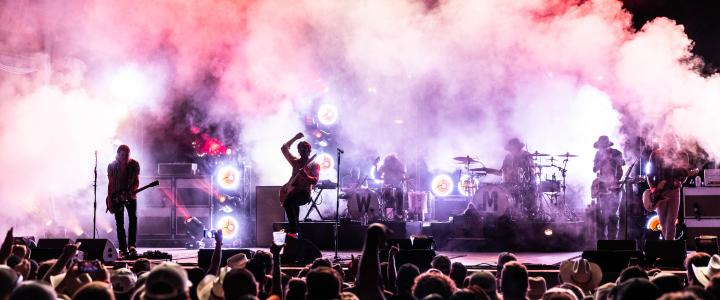 Photo: Whiskey Meyers performs at Whitewater Amphitheater in 2022.
Things to know before you go to this one-of-a-kind riverside venue  
Whitewater Amphitheater is a one-of-a-kind venue for live music. Set on the edge of the Guadalupe River, the outdoor stage is framed by towering cypress trees, treating guests to beautiful scenery as they listen to their favorite bands under the stars.
At the same time, it's also a mini arena that holds 5,600 music fans and draws major national artists like Willie Nelson, Miranda Lambert, Eric Church and Midland.
With its dual personality as a laid-back open-air amphitheater and the area's biggest stage, some fans aren't quite sure what to expect. We spoke with Becky Lynn Street, Whitewater's general manager, to get the inside scoop on making the most of your next visit to the amphitheater.
Just in time for the start of Whitewater's concert season, here are 10 insider tips for having a great experience. 
Travel light. You don't need to bring much with you to have a good time at Whitewater. This is a place where fans are on their feet and rocking out, so leave the blankets, lawn chairs and coolers at home. While a limited number of reserved seats are available, general admission tickets are standing room only. Leave your pets at home; only service animals assisting people with disabilities are allowed.
 
Wear comfy shoes and clothes. Unless you book reserved seating, prepare to be standing on a packed caliche surface for the show. Cowboy boots or athletic shoes are perfect. Save those cute heels for another occasion (and flip-flops aren't the best choice either). If you need to rest your legs, open seating picnic tables are available in the biergarten near the front entrance of the amphitheater. Even if you just finished floating the river, put some clothes on for the concert – shirts are required and uncovered swimsuits are a no-no.
 
Be ready to breeze through security. Because of the large crowds Whitewater draws, the rules here are what you might expect at any major arena: any bags brought in must be clear and their size cannot exceed 12″ x 12″ x 6." Firearms or anything else that could be perceived as a weapon are prohibited (including pocket knives). Taking photos or videos with your phone is fine, but leave the cameras, selfie-sticks and GoPros at home. A full list of prohibited items is available online, but when in doubt, leave it out so you don't have to trek back to your vehicle to stash your stuff.
 

Zach Bryan performs at Whitewater Amphitheater in 2022.

Hydrate! Complimentary filtered water is available at the venue's Hydration Station, and be sure to also hydrate in advance so you enjoy the concert from the crowd, not the medical tent. Some fans buy a bottle of water, then refill it for free throughout the evening at the Hydration Station. Avoid the rookie mistake of floating the river all day in the sun, then showing up for a concert on a warm summer night already dehydrated.
 
Consider a sitter. Officially, Whitewater is an all-ages venue (unless otherwise noted when purchasing tickets). While children are welcome, Whitewater is not particularly well suited for them. There are no playgrounds, no children's activities and strollers and car seat carriers are not allowed. With general admission being standing room only, it will be harder for small children to see the stage. Also, it's guaranteed to be loud during performances – hearing protection is recommended for children. Every person (even babies) need a ticket to each performance. Factor all that in and a babysitter might be the best way to keep everybody happy.
 
Come early and grab dinner and a cocktail. Arrive early and not only will you avoid the heaviest traffic and get the best parking, but you'll have time to enjoy Whitewater's food pavilion and biergarten, not to mention first crack at the merch. Burgers, tacos, chicken fingers, churros and other yummy foods are available. You can also try one of Whitewater's new draft cocktails, which are perfectly mixed, fast-pouring concoctions, including margaritas, front porch tea and black cherry limeade. These are premixed and ready to serve, so you get a tasty cocktail fast.
 
Take the backroads. Most map apps direct drivers to FM 306 to get to the venue, resulting in heavy traffic on that roadway (especially on Friday nights, when vacationers are arriving to nearby Canyon Lake). But there are plenty of other routes depending on where you're coming from. Beat the traffic by checking for alternate routes.
 
Even better, use a rideshare. Let someone else do the driving! Rockin' R offers a round-trip shuttle service to many Whitewater events. Rideshares are another great choice. Whitewater offers a convenient, well-lit, safe new spot for rideshare drop off and pickups near the venue's front office. Pro tip: schedule your return trip with your rideshare driver before they drop you off.

Ela Melo, lead singer Rainbow Kitten Surprise, signs the SOLD OUT poster at Whitewater Amphitheater in 2022.

Run a tab from your phone. Look for QR codes posted around the biergarten that will connect you to the bar's tab system. You can pay and even close out your tab from your phone instead of standing in line to settle up after the show.
 
Download your tickets in advance. Make sure your tickets are downloaded to your phone before you head to the arena. You'll get into the venue faster – and so will all the people in line behind you.
Ranked as one of the top 5 outdoor music venues from the Academy of Country Music in 2022, Whitewater offers a one-of-a-kind concert experience. Couple it with New Braunfels' unique array of shopping, dancing, dining, lodging, and attractions—like floating the river, taking an African safari Texas-style, or going underground in one of the state's vast network of caves-- and you have one heck of a weekend adventure.
Get ready to enjoy great music under the stars #InNewBraunfels. For a full listing of the 2023 lineup of upcoming shows, go to whitewaterrocks.com.